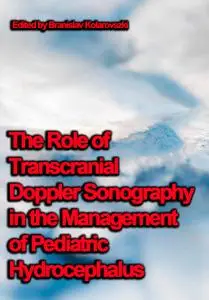 "The Role of Transcranial Doppler Sonography in the Management of Pediatric Hydrocephalus" ed. by Branislav Kolarovszki
ITExLi | 2019 | ISBN: 1839624450 9781839624452 1839624442 9781839624445 1839624469 9781839624469 | 150 pages | PDF | 29 MB
This book discusses the cerebral circulation and intracranial dynamics in pediatric hydrocephalus. It focuses on evaluating the impact of various intracranial factors on Doppler parameters of cerebral circulation, especially in neonates with hydrocephalus.
Negative influence of cerebral circulation with the emergence of cerebral hypoperfusion plays a significant role in the pathophysiology of pediatric hydrocephalus. Transcranial Doppler sonography is a non-invasive method for indirectly measuring intracranial pressure and decreasing intracranial compliance by assessing changes of cerebral circulation.
The ambition of this work is to improve indication and timing of drainage procedure in children with hydrocephalus by applying scientific results and clinical experience.
Contents
Acknowledgements
Contents
Preface
The Role of Transcranial DopplerSonography in the Management ofPediatric Hydrocephalus
1. Physiology of the cerebrospinal fluid, cerebrospinal fluid pathways, and intracranial space
1.1 Production of the cerebrospinal fluid
1.2 Cerebrospinal fluid circulation
1.3 Absorption of the cerebrospinal fluid
1.4 The intracranial pressure
1.5 The intracranial space
2. Cerebral circulation
2.1 Development of cerebral blood flow
2.2 Blood flow dynamics of the vascular system
3. Regulation of cerebral circulation
3.1 Humoral and metabolic regulation of cerebral circulation
3.1.1 Nitric oxide (NO)
3.1.2 Hydrogen ions, pH
3.1.3 Potassium
3.1.4 Adenosine
3.1.5 Prostaglandins
3.1.6 Endothelin
3.1.7 Reactivity and carbon dioxide
3.2 Neural regulation of cerebral circulation
3.3 Cerebral autoregulation
3.4 The cerebral venous system
4. Definition and classification of hydrocephalus
4.1 Definition of hydrocephalus
4.2 Classification of hydrocephalus
5. Etiology of hydrocephalus
5.1 Congenital hydrocephalus
5.2 Acquired postnatal hydrocephalus
6. Pathophysiology of hydrocephalus
6.1 Pathophysiological mechanisms of onset and development of hydrocephalus
6.2 Pathologic changes in hydrocephalus
6.3 Vascular changes in hydrocephalus
6.4 Biochemical changes in hydrocephalus
6.5 Changes of cerebral metabolism in hydrocephalus
7. Clinical manifestations of pediatric hydrocephalus
8. Basic properties of ultrasound
9. Biological effects of ultrasound
9.1 Thermal effects
9.2 Cavitation
9.3 Other mechanic effects
10. Doppler sonography
10.1 The role of Doppler principle in ultrasonography
10.2 The Doppler systems with continuous wave (CW)
10.3 The pulsatility Doppler systems (the pulsed waves, PW)
10.4 The color flow Doppler tomography (CFD, "real-time" "two-dimensional" Doppler)
10.5 The technique of the color Doppler power mapping (color Doppler energy, CDE; color power angio, CPA; Doppler power mode;
11. The transcranial "color-coded" Doppler ultrasonography
11.1 The transcranial "color-coded" Doppler ultrasonographic examination
12. The Doppler curve, measured and calculated parameters
12.1 The Doppler curve
12.2 Measured and assessed parameters of the Doppler curve
12.3 Development of Doppler parameters of cerebral circulation: physiological values
12.3.1 Neonates
12.3.2 Infancy
12.4 The factors influencing the value of qualitative indices of the Doppler curve
12.4.1 The factors increasing the resistance index of cerebral arteries
12.4.2 Factors decreasing the resistance index of cerebral arteries
13. Morphology of the cerebral ventricles in pediatric hydrocephalus
14. Assessment of Doppler parameters of the cerebral arteries in children with hydrocephalus
15. Case reports
15.1 Assessment of intracranial dynamics in the preterm neonate with hydrocephalus before and after insertion of external vent
15.2 Observation of intraindividual dynamics in the preterm neonate with asphyxia and development of progressive hydrocephalus
15.3 Impact of tachycardia on Doppler parameters of blood flow in ACA in the infant with active hydrocephalus
15.4 Assessment of intracranial dynamics of the infant with schizencephaly
15.5 Assessment of intracranial dynamics in the term neonate with congenital hydrocephalus, "Arnold-Chiari" malformation type
15.6 Assessment of intracranial dynamics in the preterm neonate with posthemorrhagic hydrocephalus
15.7 Assessment of intracranial dynamics in the neonate with occipital encephalocele and congenital hydrocephalus
15.8 Assessment of intracranial dynamics in the term neonate with birth trauma, intracerebral hemorrhage, and hemocephalus
15.9 Assessment of intracranial dynamics in the neonate with congenital hydrocephalus and VP shunt revision
15.10 Assessment of intracranial dynamics of congenital hydrocephalus in prenatal and postnatal period
16. Report of assessment of intracranial dynamics in neonate and infant with hydrocephalus
17. Conclusions
Abbreviations
References
1st true PDF with TOC BookMarkLinks