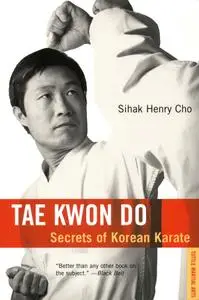 Tae Kwon Do: Secrets of Korean Karate by Sihak Henry Cho
English | July 15th, 1992 | ISBN: 0804817049 | 249 pages | True EPUB | 8.08 MB
"Clearly written, easily understood…one of the most significant contributions to the art of foot–and –fist fighting." — The Japan Times
Tae Kwon Do is a fighting art which employs almost all parts of the body in offensive and defensive moves. The techniques consist of many individual moves which are practiced as individual units and joined together for maximum efficiency in free fighting. These practice units are: basic drill in stances, kicking, punching, striking, blocking, combinations of these moves in formal patterns, prearranged attacks and counterattacks, stepping and shifting, etc. The combination of all of these units results in skill at Tae Kwon Do, which is demonstrated in free fighting. Some of the moves are directly applicable to free fighting while the others develop basic speed and coordination.
In Tae Kwon Do guide, illustrated with nearly 1,000 photographs, the author explains when, where, why, and how to best apply the deadly techniques of Tae Kwon Do. This martial arts training book gives pinpoint explanations of the advantages and disadvantages of each move, analyzing them step by step from offensive, defensive, and counterattacking perspectives. The techniques presented are applicable to any martial arts system.
Enjoy
My Blog.
No any convert or low quality!