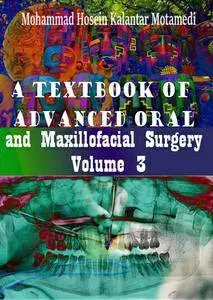 "A Textbook of Advanced Oral and Maxillofacial Surgery. Volume 3" ed. by Mohammad Hosein Kalantar Motamedi
ITexLi | 2016 | ISBN: 9535125915 9535125907 9789535125907 9789535125914 | 795 pages | PDF | 447 MB
This volume is dedicated to oral and maxillofacial (OMF) surgery; 93 specialists from nine countries contributed to 32 chapters providing comprehensive coverage of advanced topics in OMF surgery.
Advanced oral and maxillofacial surgery encompasses a vast array of diseases, disorders, defects, and deformities as well as injuries of the mouth, head, face, and jaws. It relates not only to treatment of impacted teeth, facial pain, misaligned jaws, facial trauma, oral cancers, jaw cysts, and tumors but also to facial cosmetic surgery and placement of dental and facial implants.
This specialty is evolving alongside advancements in technology and instrumentation.
Contents
Preface
1 Antimicrobial Therapy and Surgical Management of Odontogenic Infections
2 Complications of Antibiotic Therapy and Introduction of Nanoantibiotics
3 Shared Medical and Virtual Surgical Appointments in Oral Surgery
4 Cranial Nerves and Nerve Surgery in the Oral and Maxillofacial Region
5 Surgical Repair of Trigeminal Nerve Injuries
6 Headaches, Migraine, and TMJ Pain Management: Medical and Surgical Intervention
7 Drug-Refractory Trigeminal Neuralgia: Treatment via Botulinum Toxin Type A
8 Anesthesia and Sedation
9 Management of Inherited, Acquired, and Iatrogenically Induced Coagulopathies in Oral Surgery
10 Common Skin Lesions of the Face
11 Ridge Augmentation Techniques in Preprosthetic Implant Surgery
12 Bone Regeneration in Implant Dentistry: Role of Mesenchymal Stem Cells
13 Novel Techniques in Dentoalveolar and Implant Surgery
14 State-of-the-Art Immediate Implant Therapy
15 Guided Bone Regeneration Technique Using Hyaluronic Acid in Oral Implantology
16 Management of the Oroantral Fistula
17 Treatment of Oral Fistulas
18 Applications of the Buccal Fat Pad in Oral and Maxillofacial Surgery
19 Treatment Protocol for Skeletal Class III Malocclusion in Growing Patients
20 Advances in Management of Class II Malocclusions
21 Computer-Aided Designed/Computer-Aided Manufactured and Conventional Techniques in Maxillofacial Reconstruction with Free Fibula Flaps
22 Three-Dimensional Printing: A Novel Technology for Use in Oral and Maxillofacial Operations
23 Concepts in Management of Advanced Craniomaxillofacial Injuries
24 Reconstruction of TMJ with Prosthesis Joint
25 Use of Intra-Oral Osmotic Self-Inflating Tissue Expanders for Bone Reconstruction and Rehabilitation of the Jaws
26 Complications of Orthognathic Surgery
27 Osteotomies in Orthognathic Surgery
28 Facelift: Current Concepts, Techniques, and Principles
29 Basics of Facial Transplantation: Surgical Principles and Management of Risks
30 Management of Common Complications in Rhinoplasty and Medical Rhinoplasty
31 Complications in Esthetic Surgery
32 Advances in Craniofacial Surgery
1st true PDF with TOC BookMarkLinks