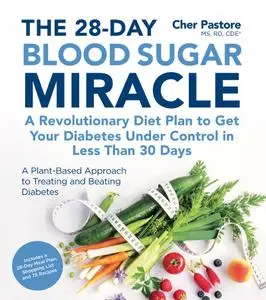 The 28-Day Blood Sugar Miracle: A Revolutionary Diet Plan to Get Your Diabetes Under Control in Less Than 30 Days by Cher Pastore, MS, RD, CDE
English | January 12th, 2016 | ISBN: 1624142125 | 192 pages | EPUB | 5.31 MB
Get Off Your Diabetes Meds in Under a Month and Stop Pre-Diabetes in Its Path
Cher Pastore will dramatically revamp your health in under a month with her certified diet plan. Geared toward individuals who are diabetic or pre-diabetic, Cher's established method uses smart and proven nutrition to lower insulin levels, produce weight loss, lower blood pressure and get people off diabetes medication for good.
Cher details which foods are best for optimal results and organizes it all in a meal plan, making it straightforward for anyone to follow. The enticing and healthy recipes are exciting and effortless, and will keep you on the path to beat diabetes. Wake up to a nourishing breakfast with the Green Goddess Smoothie or Energizing Açai Bowl. Lunch is made easy with Zest Tomato and Avocado Tartine or Baked Falafel Burgers. Dinner will delight with a Spicy Chana Masala or Zucchini Spaghetti. You'll experience new flavors each day.
With Cher's expert direction, you'll put diabetes in your past with simple and fast recipes.
Enjoy
My Blog
. No any convert or low quality!