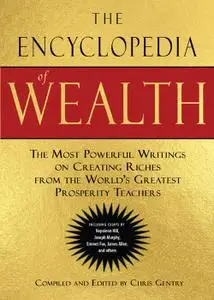 The Encyclopedia of Wealth: The Most Powerful Writings on Creating Riches from the World's Greatest Prosperity Teachers by Chris Gentry
English | November 1st, 2019 | ISBN: 1642970093 | 724 pages | EPUB | 1.48 MB
The essential reference tool for attaining wealth and abundance right here right now.
The Encyclopedia of Wealth includes 12 of the most revered, time-honored, proven classics on attaining abundance. Here in one volume are the essential wealth writings which have influenced millions of people over the past 150 years. You can read each book in the volume at your own pace, or read one a month, setting the groundwork for riches in 365 days.
The twelve life-changing books included are:
• Think and Grow Rich by Napoleon Hill
• As A Man Thinketh by James Allen
• The Power of Your Subconscious Mind by Joseph Murphy
• The Master Key System by Charles Haanel
• Acres of Diamonds by Russell Conwell
• A Message to Garcia by Elbert Hubbard
• The Ideal Made Real by Christian Larson
• The Game of Life & How to Play It
• The Science of Getting Rich by Wallace Wattles
• The Go-Getter by Peter B. Kyne
• How to Live 24 Hours a Day by Arnold Bennett
• The Mental Equivalent by Emmet Fox
Enjoy
My Blog
. No any convert or low quality!