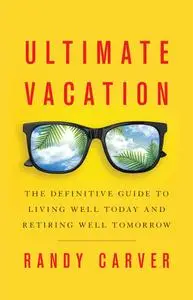 Ultimate Vacation: The Definitive Guide to Living Well Today and Retiring Well Tomorrow by Randy Carver
English | December 10th, 2019 | ISBN: 1544506481 | 256 pages | EPUB | 3.44 MB
Do you believe you can live well today and still prepare for the retirement you envision? Sadly, many people don't believe this is possible. The idea of retirement planning is so overwhelming that they put it off or take a misguided approach based on investments, not their personal vision and dreams. It doesn't have to be this way. You can enjoy today and retire to the life of your dreams using an innovative process that, up until now, only a select few had access to.
With Ultimate Vacation, Randy Carver shares the Personal Vision Planning® process that he and his team have developed and refined to help thousands of clients maintain and advance their standard of living. You'll learn how to define what's important today and create a vision for what the future looks like. Retirement wasn't meant to involve stress or worry about running out of money. With Randy's guidance, you'll come away with a clear understanding of what you want in retirement and exactly how to get it.
Enjoy
My Blog
. No any convert or low quality!