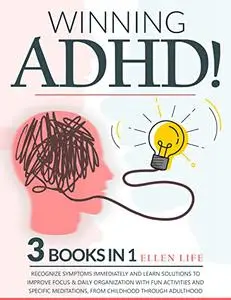 Winning ADHD! Recognize Symptoms Immediately and Learn Solutions to Improve Focus & Daily Organization: With Fun Activities and Specific Meditations, from Childhood Through Adulthood 3 books in 1 by Ellen Life
English | 2022 | ISBN: N/A | ASIN: B09R12GKLM | 405 pages | MOBI | 0.18 Mb
* Do you have concerns that you have attention-deficit/hyperactivity disorder (ADHD)?
Or do you think your child or a family member may have this problem?
Maybe you can't give yourself an answer today. But if you do have suspicions, we know how much you'd like to clear your mind of the constraints, fears, and preconceptions you've accumulated over the years or that your child is experiencing right now.
This book quickly and easily helps you understand what the symptoms are so you can make an accurate self-diagnosis
. And we give you simple exercises to do that will help you in your daily activities and your work. And if it's for your child, you'll find lots of activities and games that will help them a lot in a fun way.
If you think that a book isn't the best solution for those who have always had difficulty concentrating on reading for long periods, we want to reassure you because the book is tailored for you.
It's a very unique and comprehensive book.
You will find out how:
Benefits of ADHD
Drug-free treatment solutions
Learning to Create Daily Routines
Exercises to Decrease Speech Difficulties
Exercises to Reduce Difficulties in Coordination/Balance/Writing
Exercises to Increase Attention
Strategies and Methods in dealing with Children's ADHD
Fun Activities and Games to Play for Children's ADHD
Managing Adult ADHD
Centering Meditation Exercise for Calm and Focus
and Much More…
Now the choice is yours
. Here you will find valuable help for the situation that you want to manage.