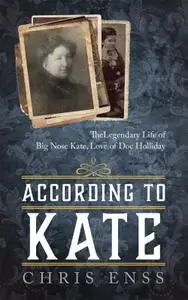 According to Kate: The Legendary Life of Big Nose Kate, Love of Doc Holliday by Chris Enss
English | October 1st, 2019 | ISBN: 1493037730 | 184 pages | EPUB | 6.23 MB
Doc Holliday's paramour Big Nose Kate could never get a publisher to give her the big bucks she demanded to tell the story of her life, but that didn't mean she didn't collect material she wanted to use in a biography. Over the fifty years Mary Kate Cummings, alias Big Nose Kate, traversed the West she saved letters from her family, musings she had written about her love interests, and life with the notorious John Henry Holliday. Using rare, never before published material Big Nose Kate stock-piled in anticipation of writing the tale of her days on the Wild Frontier, the definitive book about the famous soiled dove will finally be told.