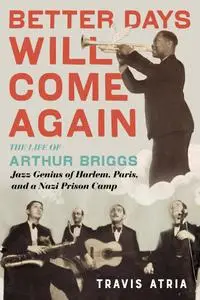 Better Days Will Come Again: The Life of Arthur Briggs, Jazz Genius of Harlem, Paris, and a Nazi Prison Camp by Travis Atria
English | January 7th, 2020 | ISBN: 0914090100 | 304 pages | EPUB | 5.29 MB
Arthur Briggs's life was Homeric in scope. Born on the the tiny island of Grenada, he set sail for Harlem during the Renaissance, then to Europe in the aftermath of WWI, where he was among the first pioneers to introduce jazz music to the world. During the legendary Jazz Age in Paris, Briggs's trumpet provided the soundtrack while Hemingway, Fitzgerald, and the rest of the Lost Generation got drunk. By the 1930s, Briggs was considered "the Louis Armstrong of Paris," and was the peer of the greatest names of his time, from Josephine Baker to Django Reinhardt.