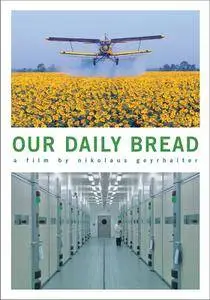 Our Daily Bread (2005)
BDRip | 96min | MKV | 1920x1080 | HEVC -> 3000kbps | E-AC3 5.1 512kbps
Documentary | Language: N/A | Subtitles: N/A | 2.34GB
In the tradition of such acclaimed cinéma direct works as Jean Eustache's Le Cochon (1970) and Frederick Wiseman's Meat (1976) comes Nikolaus Geyrhalter's 92-minute documentary Our Daily Bread – an ironic, detached cinematic glimpse of how the food we eat on a daily basis is picked, killed, mechanically processed, and packaged for human consumption. Geyrhalter resists having an overtly political or muckraking agenda; instead, his sequence of images acts as an extended visual meditation, a plunge into the poetic mundanity of everyday existence. By singling out processes that we would otherwise take for granted or overlook, Geyrhalter calls our attention to the more absurd and surreal aspects of the food chain – with the graceful and rhythmic, yet thoroughly strange and haunting, processes of automatization in the foreground.
STARS.........: Claus Hansen Petz, Arkadiusz Rydellek, Barbara Hinz
DIRECTOR......: Nikolaus Geyrhalter
WRITERS.......: Nikolaus Geyrhalter, Wolfgang Widerhofer
GENRE.........: Documentary
METASCORE.....: 86
IMDB RATING...: 7.7/10  2,136 votes
IMDB LINK.....: http://www.imdb.com/title/tt0765849
RUNTIME.......: 1h 36mn
SIZE..........: 2.34GB
VIDEO CODEC...: HEVC (Main10@L4)
RESOLUTION....: 1920x1080
ASPECT RATIO..: 1.77:1
BITRATE.......: 3000 Kbps (2-pass)
FRAMERATE.....: 24 fps
AUDIO.........: E-AC3 5.1 512kbps
SUBTITLES.....: N/A
CHAPTERS......: Yes
SOURCE........: Blu Ray
ENCODED BY....: Sartre
ENCODE DATE...: 2017-02-26
Sample Clip (Download for actual quality)
https://drive.google.com/open?id=0B77BuxFtBmKtTWJkcVpFUF9rVG8