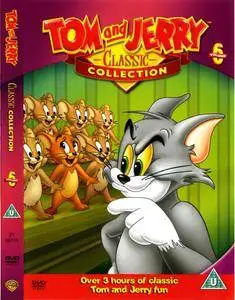 Tom and Jerry: Classic Collection. Volume 6 (1940-1945)
DVD Video, 2-disc DVD9 | 34 x ~ 7 min | PAL 4:3 | 720x576 | 4.59 Gb + 4.46 Gb
English \ Norwegian \ Swedish \ Danish \ Finnish: Dolby AC3, 1 ch
Subtitles: English, Norwegian, Swedish, Danish, Finnish, Icelandic
Genre: Animation, Comedy, Short
Tom and Jerry was created by William Hanna and Joseph Barbera, considered by many the greatest cartoonists in the history. This show has managed to become one of the most famous and influential shows in the history of cartoons.
This release includes 34 shorts.