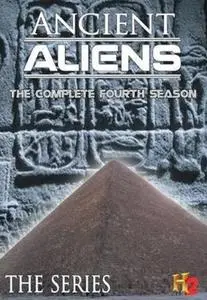 History Channel - Ancient Aliens. Season 4 (2012)
HDTVRip 720p | MKV | AVC 1280x720, ~3.3 Mbps | 10 x ~ 0hr 44mn | 10 x ~ 1,2 GB
English: AC3, 2 Ch, 384 kbps | Subtitles: None
Genre: Documentary, Fantasy, History, Sci-Fi, TV Series


Creator:
Kevin Burns (developed for television by)
Stars:
Robert Clotworthy, Giorgio A. Tsoukalos, David Childress
Ancient Aliens explores the controversial theory that extraterrestrials have visited Earth for millions of years. From the age of the dinosaurs to ancient Egypt, from early cave drawings to continued mass sightings in the US, each episode in this hit HISTORY series gives historic depth to the questions, speculations, provocative controversies, first-hand accounts and grounded theories surrounding this age-old debate. Did intelligent beings from outer space visit Earth thousands of years ago?
Contents:
01 The Mayan Conspiracy
02 The Doomsday Prophecies
03 The Greys
04 Aliens and Mega-Disasters
05 The NASA Connection
06 The Mystery of Puma Punku
07 Aliens and Bigfoot
08 The Da Vinci Conspiracy
09 The Time Travelers
10 Aliens and Dinosaurs