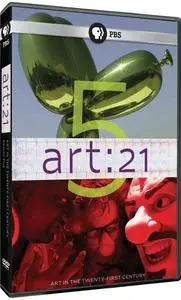 Art in the Twenty-First Century (2009) [Season 5]
DVD Video | NTSC 16:9 | 720x480 | 4 x ~ 0hr 55mn | 7.65 Gb
English: Dolby AC3, 6 ch
Subtitles: None
Genre: Documentary, Excursion | TV Mini-Series
Country:
USA
Film Distributor:
PBS [United States]
A look at contemporary art and artists.
Episode 1. Compassion:
This episode features artists whose works explore conscience and the possibility of understanding and reconciling past and present, while exposing injustice and expressing tolerance for others.
Episode 2. Fantasy:
This episode presents artists whose works defy convention and transport us to unreal worlds and altered states of consciousness.
Episode 3. Transformation:
Whether observing and satirizing society or reinventing icons of literature, art history, and popular culture, these artists inhabit the characters they create and capture the sensibilities of our age.
Episode 4. Systems:
This episode features artists who realize complex projects, whether through acts of appropriation, accumulation, or creating projects so vast in scope as to elude comprehension.
Extras:
- None


Title: ArtInTheTwentyFirstCentury.S5.09.D9
Size: 7.65 Gb ( 8 022 602,00 KBytes ) - DVD-9
Enabled regions: 1, 2, 3, 4, 5, 6, 7, 8

VTS_01 :
Play Length: 00:00:07
Video: NTSC 16:9 (720x480) VBR, Auto Letterboxed
Audio:
English (Dolby AC3, 2 ch)

VTS_02 :
Play Length: 00:00:07
Video: NTSC 16:9 (720x480) VBR, Auto Letterboxed
Audio:
English (Dolby AC3, 2 ch)

VTS_03 :
Play Length: 00:56:29+{00:56:29}
Video: NTSC 16:9 (720x480) VBR, Auto Letterboxed
Audio:
English (Dolby AC3, 2 ch)

VTS_04 :
Play Length: 00:56:30+{00:56:30}
Video: NTSC 16:9 (720x480) VBR, Auto Letterboxed
Audio:
English (Dolby AC3, 2 ch)

VTS_05 :
Play Length: 00:56:30+{00:56:30}
Video: NTSC 16:9 (720x480) VBR, Auto Letterboxed
Audio:
English (Dolby AC3, 2 ch)

VTS_06 :
Play Length: 00:56:10+{00:56:10}
Video: NTSC 16:9 (720x480) VBR, Auto Letterboxed
Audio:
English (Dolby AC3, 2 ch)


All thanks to the original uploader