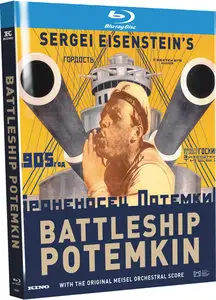 Bronenosets Potyomkin / Броненосец Потёмкин (1925)
BDRip | MKV | AVC 1376x1080, ~ 11.6 Mbps | 1hr 11mn | 6.62 GB
German(Score by Edmund Meizel, 1926): DTS, 6 ch, 1510 kbps; Russian(Music by Dmitri Shostakovich, 1976): AC3, 6 ch, 128 kbps
Subtitles: English; Intertitles: Russian
Genre: Drama | History
IMDB Rating: 8.0/10 (28.495 votes)
Director:
Sergei M. Eisenstein
Writers:
Nina Agadzhanova
Stars:
Aleksandr Antonov, Vladimir Barsky, Grigori Aleksandrov
Based on the historical events the movie tells the story of a riot at the battleship Potemkin. What started as a protest strike when the crew was given rotten meat for dinner ended in a riot. The sailors raised the red flag and tried to ignite the revolution in their home port Odessa.
Название:
Броненосец Потёмкин
Год выпуска:
1925
Жанр:
Драма, исторический
Выпущено:
СССР (Россия)
Режиссер:
Сергей Эйзенштейн, Григорий Александров
В ролях:
Владимир Уральский, Александр Антонов, Владимир Барский, Григорий Александров, Михаил Гоморов, Марусов, Иван Бобров, Репникова, Александр Левшин
О фильме:
Созданный в 1925 году и признанный лучшим фильмом всех времен и народов, Броненосец Потемкин продолжает оставаться одним из самых значительных произведений отечественного и мирового киноискусства.