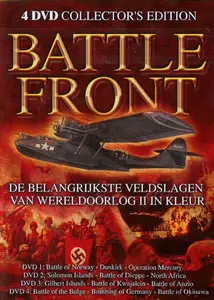 Battle Front 1 - Collector's Edition - DVD 4: Battle of the Bulge, Bombing of Germany, Battle of Okinawa
DVD | 2004 | English | 04:40 | MPEG2 - 1041 Kbps | 720x576 | 25 fps | MPEG1 128 kbps avg | 4.09 GB
Genre: Documentary
The world of 1939 to 1945. A war-torn nations and united. A war with many deaths and many heroic deeds were done. There are many battles on land, sea and air fought the world today have formed.
House of Knowledge will take you to the battles of Okinawa and including Dunkirk. You will see the horrors of war up close. From the beaches of Normandy to the jungles of Tarware you will be taken to the front. This documentary makt use of authentic images and eyewitness accounts, both black and white or color.