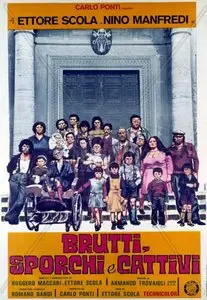 Ugly, Dirty and Bad / Brutti, sporchi e cattivi / Отвратительные, грязные, злые (1976)
DVD-Rip | Italian, Russian | 1:51:15 | 720 x 384 | 25fps | XviD, 1682 kbps | AC3, 192 kb/s | 1.61 GB
Subtitle: English, Spanish, Portugese, Italian, Russian (not built in)
Genre: Comedy | Drama
Down & Dirty. That translates literally to "dirty, nasty and bad", in reference to the lower-class characters and surroundings in this Ettore Scola film. Scola zeroes in on a particularly offensive Roman family. The stingy patriarch, Nino Manfredi, is personally wealthy but morally bankrupt, and his repulsive view of life trickles down to every member of his clan. Not content with corrupting his own flesh and blood, Manfredi spreads his philosophy throughout his village, where he functions as slumlord. By the time Manfredi's wife and sons begin plotting his murder, the audience is ready for a long, cold shower, with plenty of soap. A bleak film heavily laden with humor, Brutti, sporchi e cattivi won Ettore Scola a Best Director award at the Cannes Film Festival.