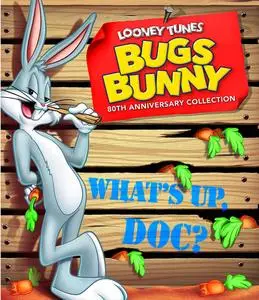 Bugs Bunny 80th Anniversary Collection. Part3 (1940-1969)
Blu-Ray | BDMV | AVC, 1920x1080, ~12.0 Mbps | 20 x ~ 7mn | 22.0 GB
English: AC3, 2 ch, 192 Kbps \ French (Francais): AC3, 2 ch, 192 Kbps \ Portuguese (Portugues): AC3, 2 ch, 192 Kbps \ English: AC3, 2 ch, 192 Kbps
Subtitles: English, French, Dutch, Portuguese
Genre: Animation, Comedy, Family, Short

Film Distributor:
Warner Home Video
Bugs Bunny first hopped onto the screen in 1940 and he's been a pop-culture icon ever since. More than eight generations have enjoyed the timeless antics of the carrot-munching wise guy who always outsmarts his rivals. Cartoons, movies, TV, comics, music, sports and more – this wascally wabbit has done it all. Clever pranks and one-liners are here, along with interviews with today's most renowned animators, historians and superstars. Enjoy the full range of his silly and smart-alecky personality with 60 theatrical shorts restored and remastered to their original 4x3 aspect ratio on Blu-ray for the first time.
Disc 3:
Bugsy and Mugsy
Show Biz Bugs
Hare-Less Wolf
Now, Hare This
Knighty Knight Bugs
Hare-abian Nights
Backwoods Bunny
Wild and Woolly Hare
Bonanza Bunny
People Are Bunny
Person to Bunny
Rabbit's Feat
From Hare to Heir
Compressed Hare
Prince Violent
Shishkabugs
The Million Hare
The Unmentionables
False Hare
(Blooper) Bunny
Extras:
- Commentaries on 29 of the shorts
- New Documentary: Bugs Bunny's 80th What's Up, Doc-umentary! (1:01:04)
- Looney Tunes 50th Anniversary (47:13)
- Behind the Tunes (35:45, 10:37)
- 10 Bonus Cartoons (58:12)