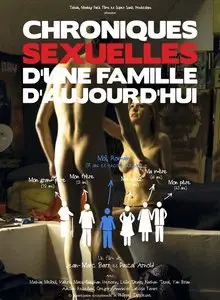 Chroniques sexuelles d'une famille d'aujourd'hui / Sexual Chronicles of a French Family (2012)
DVD Video | 1hr 19mn | NTSC 16:9 | 720x480 | 4.04 Gb
French: Dolby AC3, 6 ch
Subtitles: English, Spanish
Genre: Comedy | Drama
Director:
Pascal Arnold, Jean-Marc Barr
Writers:
Lucy Allwood, Pascal Arnold
Stars:
Mathias Melloul, Valérie Maës, Stephan Hersoen
The school catches 18-year-old Romain video taping himself masturbating in class and suspends him. Though the school drops the matter after learning it's only one incident in a game in which all students participate, Romain remains distressed. He's still a virgin and the only member of his family not engaged in sexual activity.
Thanks to original uploader