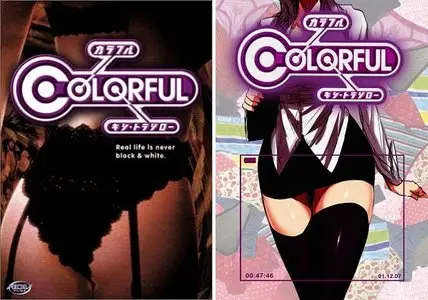 Colorful - Complete Series (1999)
DVDrip | Mkv | H264 - 1150 Kbps | AC3 - 224 kbps | 640x480 | Language: English+Japanese | 108 min | 1.45 Gb
Subtitles: English (included)
DVDrip - [MGP] | Mkv | XVID - 911 Kbps | MP3 - 96 kbps | 512x384 | Language: Japanese | 91 min | 700 Mb
Subtitles: French (hardsub)
Genre: Anime, Comedy, Ecchi
The adventures (and mis-adventures) of Men, staring, peeking, glacing, looking, glaring at women and their efforts to get that extra eyefull of harmlessly exposed panties, bra, and occasional cleavage. Following at most, a few regular males and the outragious concequences of their actions.
On découvre des hommes en complète extase devant une petite culotte portée par une belle jeune femme, un autre qui est dans l'impossibilité de retenir son érection devant une jolie vendeuse lui raccommodant le pantalon, des jeunes étudiants à l'université de Tokyo en complète extase devant la jolie et pulpeuse professeur d'anglais leur apprenant les intonations de l'alphabet anglais avec une façon bien à elle, l'entraineur de la sportive Yamamoto qui perd son sang-froid devant cette jeune femme qui confie à celui-ci qu'elle a certaines parties de son corps qui n'ont pas bronzé et n'oublions pas ce magasinier qui est complètement séduit par les sous-vêtements de sa collègue.
* Director: Ryutaro Nakamura
* Number of episodes: 16 (in 1 mkv File)