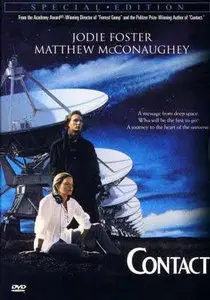 Contact (1997)
DVD-RiP | Xvid | 576x320 | AC3, 48kHz - 128kbps | 24fps | 900 MB
Language: English | Subtitle: Turkish, Persian, French, Portuguese, Russian | Genre: Drama, Mystery, Sci-Fi, Thriller
Contact is a 1997 science fiction drama film adapted from the Carl Sagan novel of the same name and directed by Robert Zemeckis. Both Sagan and wife Ann Druyan wrote the story outline for the film adaptation of Contact. Jodie Foster portrays the film's protagonist, Dr. Eleanor "Ellie" Arroway, a SETI scientist who finds strong evidence of extraterrestrial life and is chosen to make first contact. Supporting roles are played by Matthew McConaughey, James Woods, Tom Skerritt, William Fichtner, John Hurt, Angela Bassett and David Morse.

Carl Sagan and Ann Druyan began working on the film in 1979. Together, they wrote a 100+ page film treatment and set Contact up at Warner Bros. with Peter Guber and Lynda Obst as producers. When the film ended up in development hell, Sagan published Contact as a novel in 1985 and the film adaptation was rejuvenated in 1989. Roland Joffé and George Miller had planned to direct it, but Joffé dropped out in 1993 and Miller was fired by Warner Bros. in 1995. Robert Zemeckis was eventually hired to direct, and filming for Contact lasted from September 1996 to February 1997. The majority of the visual effects sequences were handled by Sony Pictures Imageworks.

The film was released on July 1, 1997 to mixed reviews. Contact grossed approximately $171 million in worldwide box office totals. The film won the Hugo Award for Best Dramatic Presentation and received multiple awards and nominations at the Saturn Awards. The release of Contact was publicized by controversies from the Bill Clinton Administration, CNN, as well as individual lawsuits from George Miller and Francis Ford Coppola. The California Courts of Appeal dismissed Coppola's claim that he had developed an unproduced version of Contact as a children's television special with Sagan in 1975.
http://rapidshare.com/files/324737994/Contact_film.part01.rar
http://rapidshare.com/files/324764850/Contact_film.part02.rar
http://rapidshare.com/files/324789032/Contact_film.part03.rar
http://rapidshare.com/files/324821935/Contact_film.part04.rar
http://rapidshare.com/files/324939430/Contact_film.part05.rar
http://rapidshare.com/files/324969409/Contact_film.part06.rar
http://rapidshare.com/files/325995774/Contact_film.part07.rar
http://rapidshare.com/files/325035701/Contact_film.part08.rar
http://rapidshare.com/files/325063072/Contact_film.part09.rar
http://rapidshare.com/files/324726523/Contact_film.part10.rar