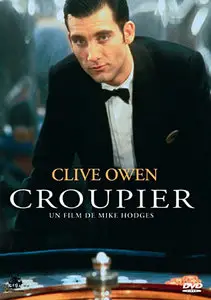 Croupier (1998)
DVD-RiP | Xvid | 640x352 | AC3, 48kHz - 160kbps | 25fps | 700 Mb
Genre: Crime, Drama | Lang: English | Sub: Turkish, Czech, Greek, Polish, Sebian, Portuguese, Romanian, France, Spanish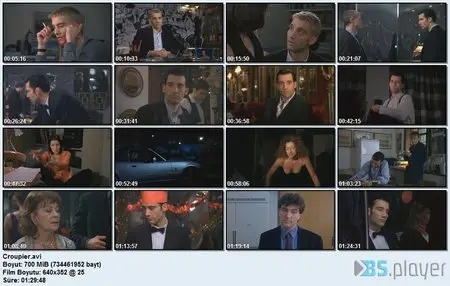 Jack Manfred is an aspiring writer going nowhere fast. To make ends meet, and against his better judgement, he takes a job as a croupier. He finds himself drawn into the casino world and the job gradually takes over his life; his relationship with girlfriend Marion begins to deteriorate. One gambler in particular catches his attention: Jani, whom he starts to see outside of working hours - a serious violation of casino rules. Jani is down on her luck; under pressure from her creditors she approaches Jack, asking him to be the inside man for a planned heist at the casino. Jack carefully considers the odds; it all looks so simple, but even a professional like Jack can't predict the cards he will be dealt. A struggling author (Clive Owen) uses his father's connections to get a job running a roulette wheel at a casino. Soon he meets a woman (Alex Kingston) who seduces him and then encourages him to join her associates in a robbery scheme. He joins, however, he uses his experiences for the plot of his book, "I, Croupier".
http://rapidshare.com/files/326011339/Croupier.part1.rar
http://rapidshare.com/files/326027931/Croupier.part2.rar
http://rapidshare.com/files/326045207/Croupier.part3.rar
http://rapidshare.com/files/326064493/Croupier.part4.rar
http://rapidshare.com/files/326084521/Croupier.part5.rar
http://rapidshare.com/files/326107476/Croupier.part6.rar
http://rapidshare.com/files/326184091/Croupier.part7.rar
http://rapidshare.com/files/326177161/Croupier.part8.rar
Subs Link
http://rapidshare.com/files/326305407/subs.rar