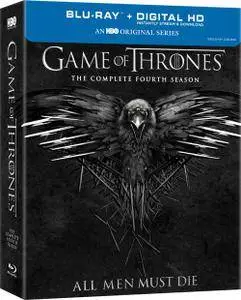 Game of Thrones [Complete season 4] (2014)
Blu-Ray, Fourth Boxed Set | BDMV | AVC, 1920x1080, ~25.0 Mbps | 10 ~ 58mn | 40,7 GB + 41,0 GB + 40,9 GB + 43,0 GB
English: DTS-HD MA, 6 ch, 3462 kbps \ DTS Express, 2 ch, 192 kbps; English \ French \ Spanish: DTS, 6 ch, 755 kbps; Spanish \ Czech \ Polish: AC3, 2 ch, 755 kbps
Subtitles: English, French, Spanish, Czech, Polish, Portuguese, Dutch, Danish, Finnish, Norwegian, Swedish, Greek
Genre: Adventure, Drama, Fantasy, Series
Creators:
David Benioff, D.B. Weiss
Stars:
Emilia Clarke, Peter Dinklage, Kit Harington
In the mythical continent of Westeros, several powerful families fight for control of the Seven Kingdoms. As conflict erupts in the kingdoms of men, an ancient enemy rises once again to threaten them all. Meanwhile, the last heirs of a recently usurped dynasty plot to take back their homeland from across the Narrow Sea.
Extras:
- In-Episode Guide – In-feature resource that provides background information about on-screen characters, locations and relevant histories.
- Histories & Lore – Learn about the mythology of Westeros as told from the varying perspectives of the characters themselves.
- Behind the Battle for the Wall – Follow the cast and crew as they create the most ambitious battle to date. This 30-minute documentary explores the challenges of putting together one of the series' most intense episodes, with never-before-seen material.
- The Fallen: A Roundtable – Writer Bryan Cogman sits down with a few of the many cast members who meet their demise in Season 4. From first learning of their deaths to shooting their final scenes, this 30-minute feature will shed light on what it's like to live-and die-in the Game of Thrones world.
- The Politics of Power: A Look Back at Season 3 – Revisit the brutal events of Season 3 to see power shifts that define Westeros at the start of Season 4.
- Bastards of Westeros – Hear showrunners David Benioff & D.B. Weiss and author George R.R. Martin discuss the role bastards play in the Seven Kingdoms.
- Deleted/Extended Scenes – Two deleted scenes.
- Audio Commentaries – Commentaries with cast and crew including showrunners David Benioff and D.B. Weiss, A Song of Ice and Fire author George R.R. Martin, Sophie Turner, Maisie Williams, Pedro Pascal, Aiden Gillen and more!


DISC INFO:

Disc Title: GmTh.14.S4.BR1
Disc Size: 43 805 296 238 bytes
Protection: AACS
BD-Java: Yes
BDInfo: 0.5.8

PLAYLIST REPORT:

Name: 00800.MPLS
Length: 0:58:13.114 (h:m:s.ms)
Size: 16 151 212 032 bytes
Total Bitrate: 36,99 Mbps

VIDEO:

Codec Bitrate Description
––- –––- –––––-
MPEG-4 AVC Video 24986 kbps 1080p / 23,976 fps / 16:9 / High Profile 4.1
MPEG-4 AVC Video 1000 kbps 480p / 23,976 fps / 16:9 / High Profile 3.2

AUDIO:

Codec Language Bitrate Description
––- –––– –––- –––––-
DTS-HD Master Audio English 3462 kbps 5.1 / 48 kHz / 3462 kbps / 24-bit (DTS Core: 5.1 / 48 kHz / 1509 kbps / 24-bit)
DTS Audio French 768 kbps 5.1 / 48 kHz / 768 kbps / 24-bit
DTS Audio Spanish 768 kbps 2.0 / 48 kHz / 768 kbps / 24-bit
DTS Audio Spanish 768 kbps 5.1 / 48 kHz / 768 kbps / 24-bit
DTS Audio Czech 768 kbps 2.0 / 48 kHz / 768 kbps / 24-bit
DTS Audio Polish 768 kbps 2.0 / 48 kHz / 768 kbps / 24-bit
DTS Audio English 768 kbps 5.1 / 48 kHz / 768 kbps / 24-bit
DTS Express English 192 kbps 2.0 / 48 kHz / 192 kbps / 24-bit

SUBTITLES:

Codec Language Bitrate Description
––- –––– –––- –––––-
Presentation Graphics English 41,591 kbps
Presentation Graphics French 33,219 kbps
Presentation Graphics Spanish 38,174 kbps
Presentation Graphics Spanish 39,275 kbps
Presentation Graphics Czech 36,968 kbps
Presentation Graphics Polish 31,427 kbps
Presentation Graphics Portuguese 40,073 kbps
Presentation Graphics Dutch 38,234 kbps
Presentation Graphics Danish 37,446 kbps
Presentation Graphics Finnish 32,892 kbps
Presentation Graphics Norwegian 36,199 kbps
Presentation Graphics Swedish 36,627 kbps
Presentation Graphics Greek 44,490 kbps

FILES:

Name Time In Length Size Total Bitrate
–– –––- ––– –– ––––––-
00045.M2TS 0:00:00.000 0:58:13.114 16 151 212 032 36 990

–––––––––––––––––––––––––––––––––––––––––––––––––––––––––––––––––––––––––