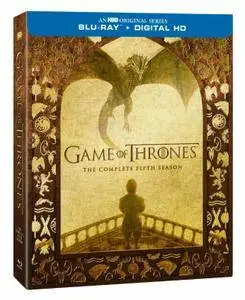 Game of Thrones [Complete season 5] (2015)
Blu-Ray, Fourth Boxed Set | BDMV | AVC, 1920x1080, ~25.0 Mbps | 10 ~ 55mn | 34,4 ГБ + 43,1 GB + 41,9 GB + 45,8 GB
English: DTS-HD MA, 6 ch, 4152 kbps \ AC3, 6 ch, 640 kbps; English \ French \ Spanish \ German: AC3, 6 ch, 448 kbps; Spanish \ Polish: AC3, 2 ch, 256 kbps; English \ Czech: AC3, 2 ch, 192 kbps
Subtitles: English, French, Spanish, German, Czech, Polish, Portuguese, Dutch, Danish, Finnish, Norwegian, Swedish, Greek
Genre: Adventure, Drama, Fantasy, Series
Creators:
David Benioff, D.B. Weiss
Stars:
Emilia Clarke, Peter Dinklage, Kit Harington
In the mythical continent of Westeros, several powerful families fight for control of the Seven Kingdoms. As conflict erupts in the kingdoms of men, an ancient enemy rises once again to threaten them all. Meanwhile, the last heirs of a recently usurped dynasty plot to take back their homeland from across the Narrow Sea.
Extras:
- The Dance of Dragons – Hear the story of the Greens and the Blacks, the Targaryen civil war that led to the downfall of the dragons, featuring surprise narration from notable characters from past seasons.
- In-Episode Guide – Dig deeper into the show with this in-feature resource that provides background information about on-screen characters, locations, and relevant histories.
- Histories and Lore – Learn about the mythology of Westeros and Essos as told from the varying perspectives of the characters themselves in 14 history pieces. Select Histories feature illustrations from the show's storyboard artist, Will Simpson.
- Anatomy of an Episode - Mother's Mercy - Hear the story of the writer's room to the final visual-effects, see what went into creating 'Mother's Mercy' an episode fans will be talking about for years to come
- The Real History Behind 'Game of Thrones - Watch Historians, along with George R.R.Martin explore interweaving inspirations of the actual players in the era known as 'The Wars of The Roses' and other historical events in this two-part series.
- A Day In The Life - Three Countries, hundreds of cast and crew, one epic day, Get an inside look at the production process of season 5.


DISC INFO:

Disc Title: GmTh.15.S5.BR1
Disc Size: 36 967 073 466 bytes
Protection: AACS
BD-Java: Yes
BDInfo: 0.5.8

PLAYLIST REPORT:

Name: 00801.MPLS
Length: 0:55:34.748 (h:m:s.ms)
Size: 15 666 972 672 bytes
Total Bitrate: 37,58 Mbps

VIDEO:

Codec Bitrate Description
––- –––- –––––-
MPEG-4 AVC Video 24987 kbps 1080p / 23,976 fps / 16:9 / High Profile 4.1
MPEG-4 AVC Video 1000 kbps 480p / 23,976 fps / 16:9 / High Profile 3.2

AUDIO:

Codec Language Bitrate Description
––- –––– –––- –––––-
Dolby Digital Audio English 640 kbps 5.1 / 48 kHz / 640 kbps
Dolby TrueHD Audio English 4152 kbps 7.1 / 48 kHz / 4152 kbps / 24-bit (AC3 Embedded: 5.1-EX / 48 kHz / 640 kbps)
Dolby Digital Audio French 448 kbps 5.1 / 48 kHz / 448 kbps
Dolby Digital Audio Spanish 256 kbps 2.0 / 48 kHz / 256 kbps / Dolby Surround
Dolby Digital Audio Spanish 448 kbps 5.1 / 48 kHz / 448 kbps
Dolby Digital Plus Audio English 192 kbps 2.0 / 48 kHz / 192 kbps
Dolby Digital Audio German 448 kbps 5.1 / 48 kHz / 448 kbps
Dolby Digital Audio Czech 192 kbps 2.0 / 48 kHz / 192 kbps / DN -4dB
Dolby Digital Audio Polish 256 kbps 2.0 / 48 kHz / 256 kbps / Dolby Surround
Dolby Digital Audio English 448 kbps 5.1 / 48 kHz / 448 kbps

SUBTITLES:

Codec Language Bitrate Description
––- –––– –––- –––––-
Presentation Graphics English 39,502 kbps
Presentation Graphics French 30,801 kbps
Presentation Graphics Spanish 35,398 kbps
Presentation Graphics Spanish 35,630 kbps
Presentation Graphics German 35,590 kbps
Presentation Graphics Czech 32,697 kbps
Presentation Graphics Polish 26,557 kbps
Presentation Graphics Portuguese 37,405 kbps
Presentation Graphics Dutch 35,500 kbps
Presentation Graphics Danish 34,121 kbps
Presentation Graphics Finnish 32,232 kbps
Presentation Graphics Norwegian 33,017 kbps
Presentation Graphics Swedish 34,848 kbps
Presentation Graphics Greek 41,668 kbps

FILES:

Name Time In Length Size Total Bitrate
–– –––- ––– –– ––––––-
00074.M2TS 0:00:00.000 0:55:34.748 15 666 972 672 37 585

–––––––––––––––––––––––––––––––––––––––––––––––––––––––––––––––––––––––––