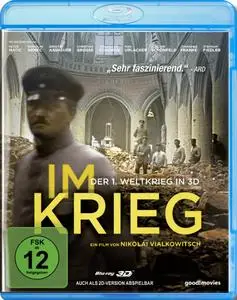 In War - The 1st World War in 3D / Im Krieg - Der 1. Weltkrieg in 3D (2014)
Blu-Ray | ISO | AVC, 1920x1080, ~25.3 Mbps | 1hr 42mn | 30.8 GB
German (Deutsch): DTS-HD Master Audio, 6 ch, 2197 kbps \ DTS-HD Master Audio, 2 ch, 1012 kbps
Subtitles: English
Genre: Documentary


Director:
Nikolai Vialkowitsch
Stars:
Miroslav Nemec
This documentary is not about the political circumstances but gives you a great impression from the people's point of view of WWI. It uses original stereoscopic color photographs in incredibly high quality from before, during and after the war, while letters of people who were fighting it and their loved ones are being read out, so you get a very personal and touching point of view, while it also makes you aware that it couldn't happen again anytime. With the wonderful original 3D pictures it gives you a surreal, almost super-real impression of the time, like you've never experienced it before.
Extras:
- Trailer
All thanks to the original uploader



If you like this release please visit my blog
In it you will find "Blu-Ray" releases in different languages