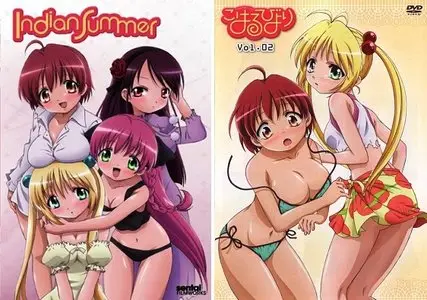 Indian Summer / Koharu Biyori (2007)
DVDrip - [E-D] | Mkv | H264 - 1280 Kbps | AC3 - 224 kbps | 720x480 | Language: Japanese | 3x30 min | 3x340 Mb
Subtitles: English (included)
DVDrip - [Millenimum] | Mp4 | H264 - 1100 Kbps | AAC - 75 kbps | 720x400 | Language: Japanese | 3x30 min | 3x250 Mb
Subtitles: French (hardsub)
Genre: Anime, Comedy, Ecchi, Sci-fi
Set in a near future, a time where robots are common workers for their owners. Takaya Murase has just purchased a maid robot from a robotic doll distriubutor, MaidWorks. Ready to live a normal cleaning, cooking, and serving life to her owner, Yui is purchased, by Takaya but he has other plans for her…like dressing her up in dress-costumes of his fantasies and more.
Dans un futur proche, la technologie a fait de tels progrès qu'on peut acheter des robots à l'apparence humaine. Ces derniers sont programmés pour répondre aux différentes demandes de leur propriétaire. Takaya Murase parcourt un magasin à la recherche de son futur robot et décide d'acquérir une servante pour l'aider au quotidien. De retour chez lui, la servante découvre que Takaya est un fétichiste de premier ordre et qu'il veut avant tout s'amuser à lui faire porter toutes sortes de robes.
* Director: Takayuki Inagaki
* Number of episodes: 3 OAV