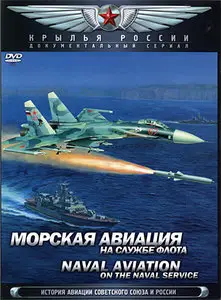 Naval Aviation. On The Naval Service / История авиации Советского Союза и России. Диск 16. Морская авиация. На службе флота (2008)
DVD Video | 0hr 51mn | PAL 4:3 | 720x576 | 3.45 Gb
Russian \ English: Dolby AC3, 2 ch; English: Dolby AC3, 6 ch
Subtitle: None
Genre: Documentary | Historical

Naval drills in 70s. Hundreds of ships, thousands flying vehicles of Naval Aviation. Place of action - seas and oceans. Amphibians conduct reconnaissance. Antisubmarine planes and helicopters bring aboard
equipment for location and destruction of submarines.
Missile carriers work from shores. They can destroy an aircraft carrier of potential enemy… And very soon deck fighters will be introduced in service.
Сериал:
История авиации Советского Союза и России
Серия:
Крылья России
Название:
Диск 16. Морская авиация. На службе флота
Год выпуска:
2008
Жанр:
Документальный, история, авиация, вооружение
Выпущено:
Россия, Студия "Крылья России"
В ролях:
А. Кулясов
О фильме:
Студия "Крылья России" представляет документальный сериал об истории развития отечественной авиационной техники. Зритель познакомится с уникальными киноматериалами, собранными студией. На каждом диске имеется дополнительная справочная информация по летательным аппаратам.
Флотские учения 70-х годов. Сотни кораблей, тысячи летательных аппаратов морской авиации. Место действия - моря и океаны. Амфибии проводят разведку. Противолодочные самолёты и вертолёты несут на борту оборудование для поиска и уничтожения субмарин. Ракетоносцы работают с берега. Они способны уничтожить авианосец потенциального противника… А вскоре на вооружение будут приняты и палубные самолёты.