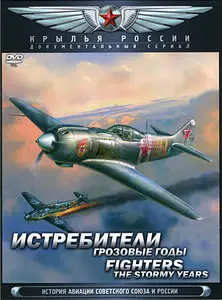 Fighters. The Stormy Years / История авиации Советского Союза и России. Диск 2. Истребители: Грозовые годы (2008)
DVD Video | 0hr 51mn | PAL 4:3 | 720x576 | 3.47 Gb
Russian \ English: Dolby AC3, 2 ch; English: Dolby AC3, 6 ch
Subtitle: None
Genre: Documentary | Historical

Spring of 1943. One of the biggest air battles of the World War II wages over the skies of Kuban. In order to destroy threat from their rear lines, Germans started massive air strikes. More than 500 aircrafts were participating in them. However, Soviet Air Force also have concentrated up to 900 planes there. Opposition lasted more than two months.
The struggle for air superiority was ferocious. And primary role in it was played by Soviet fighter of new generation.
Сериал:
История авиации Советского Союза и России
Серия:
Крылья России
Название:
Диск 2. Истребители: Грозовые годы
Год выпуска:
2008
Жанр:
Документальный, история, авиация, вооружение
Выпущено:
Россия, Студия "Крылья России"
В ролях:
А. Кулясов
О фильме:
Студия "Крылья России" представляет документальный сериал об истории развития отечественной авиационной техники. Зритель познакомится с уникальными киноматериалами, собранными студией. На каждом диске имеется дополнительная справочная информация по летательным аппаратам.
Весной 1943 года в небе над Кубанью развернулось одно из крупнейших воздушных сражений Второй Мировой войны. Для ликвидации угрозы с тыла немцы предприняли массированные авианалеты. В них участвовало более 500 самолетов. Но и советская авиация сосредоточила здесь до 900 машин. Противостояние длилось свыше двух месяцев. Борьба за господство в воздухе была жестокой. И в ней главную роль сыграли советские истребители нового поколения.