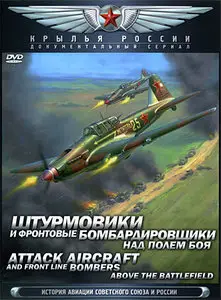 Attack Aircraft And Front Line Bombers. Above The Battlefield / История авиации Советского Союза и России. Диск 7. Штурмовики и фронтовые бомбардировщики. Над полем боя (2008)
DVD Video | 0hr 51mn | PAL 4:3 | 720x576 | 2.71 Gb
Russian \ English: Dolby AC3, 2 ch; English: Dolby AC3, 6 ch
Subtitle: None
Genre: Documentary | Historical

In 1943 the Soviet Air Force achieved full superiority in the air. Wave by wave, IL-2 airplanes, almost without any resistant, were delivering blows on defenses of weakening enemy. These shturmoviks received such fame and such trust, that they became a symbol of the Great Patriotic War. Rough and powerful - these are two words, which do entirely characterize IL-2. Soviet soldiers rejoiced, when it suddenly appeared in the sky and swiftly dived on the enemy .IL-2 rightfully was acknowledged as the best strike aircraft of the Second World War.
Сериал:
История авиации Советского Союза и России
Серия:
Крылья России
Название:
Диск 7. Штурмовики и фронтовые бомбардировщики. Над полем боя
Год выпуска:
2008
Жанр:
Документальный, история, авиация, вооружение
Выпущено:
Россия, Студия "Крылья России"
В ролях:
А. Кулясов
О фильме:
Студия "Крылья России" представляет документальный сериал об истории развития отечественной авиационной техники. Зритель познакомится с уникальными киноматериалами, собранными студией. На каждом диске имеется дополнительная справочная информация по летательным аппаратам.
В 1943 году советская авиация добилась полного господства в воздухе. Самолёты Ил-2 волна за волной практически беспрепятственно наносили удары по обороне слабеющего противника Эти штурмовики получили такую известность, такое доверие, что стали символом Великой Отечественной войны. Грубый и мощный - вот два слова, которые в полной мере характеризуют Ил-2. Советские солдаты ликовали, когда он появлялся в небе и стремительно пикировал на врага. Ил-2 по праву был признан лучшим штурмовиком Второй Мировой войны.