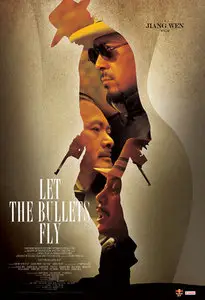 Let The Bullets Fly (2010)
BRRip 480p - TinyBearDs | MKV | 848 x 360 | x264 600kbps 23.976fps | AAC 64kbps 2CH
Language: Mandarin | Subtitle: English Included | 132min | 630MB
Genre: Action | Comedy | Western | 1 win & 5 nominations
IMDb Rating: 7.7/10 (1,192 votes)
Director:
Wen Jiang
Set in China during the warring 1920s, notorious bandit chief Zhang descends upon a remote provincial town posing as its new mayor, an identity that he had hijacked from Old Tang, himself a small-time imposter. Hell-bent on making a fast buck, Zhang soon meets his match in the tyrannical local gentry Huang as a deadly battle of wit and brutality ensues.
An IMDb Review: Simply the best Chinese movie in 2010
In early 1920s, China was in civil war and it was an era when disorder became part of life. Bangde Ma ( GE, You) who just became the mayor of a remote town through bribery was robbed by a group of bandits led by Pock Zhang ( JIANG, Wen). However Ma could not afford any ransom because he had used up all his money for bribery and the only way to collect money was to use the ruling power of the mayor title. Zhang decided to take Ma's position as the new mayor while Ma posed as his private adviser under the name of Tang.

Their destination, the Goose Town, was actually controlled by notorious mafia clan of the Huang family and the only way to collect money was to fully cooperate with the family and handed out most of their gains. However Zhang was only interested in rich families black money and believed in fair justice for each person, which made Huang the IV ( CHOW, Yun-Fat), the boss of the clan, very very unhappy. Almost immediately Zhang and Huang became enemies and the Goose Town would soon turn to be a battle field as well as a stage of hypocrisy, cheating, apathy and snobbery.

The first impression of the movie is that it is no doubt of a typical Hollywood style action comedy composed by every piece of commercial element you can find in other Hollywood action movies such as gun firing, explosions, beauties, muscles, fast moving, slangs, and etc. The movie itself is of great fun and you will laugh from the beginning to the end. Also the story is told in a straightforward way and there would be no problem of understanding it even if you have no idea where China is located. The problem, however, is how to interpret Jiang Wen. Let the Bullets Fly is becoming one of the hottest and the most appraised movies in recent years in China neither because it is more dazzling than the Avatar nor because it is more surprising than the Inception. It is welcomed because many Chinese viewers regard the story as a mirror of present China and a movie with strong critical acclaim should have not been approved for public show by the authority such as Jiang Wen's previous movie the Devils on the Doorstep. Interestingly, different people can interpret the movie in a way they like and this may be the power of a comedy. Frankly speaking, if you are not a Chinese, chances are you will enjoy the movie for funny stuff while not the metaphor of the movie.
Screenshots: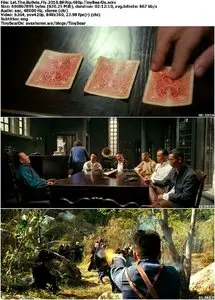 TinyBearDs' Chow Yun-fat's Movies Collection