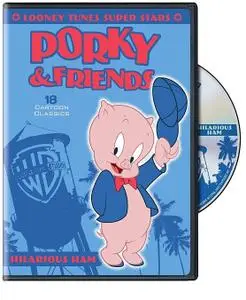 Looney Tunes Super Stars - Porky & Friends: Hilarious Ham (1944-1969)
DVDRip | MKV | AVC, 720x480, ~ 1.6 Mbps | 18 x ~ 7mn | ~ 18 x ~ 100 MB
English \ Spanish (Español): AC3, 1 ch, 192 Kbps | Subtitles: English
Genre: Animation, Comedy, Short

Sixteen of these 18 cartoons have never previously been released on DVD. Most of these titles feature Porky Pig, and the rest star lesser known Warner Bros. cartoon characters.
From Porky Pig's humble beginnings in 1935 as a minor supporting player, the little pig with the big heart would go on to become the first original Warner Bros. animated character to achieve true box office superstardom. Now, in 18 classic shorts remastered for the first time into pristine, first-run condition, Porky and a cast of other Warner Bros. greats star in a cavalcade of animated gems, including Porky as a pilgrim aiming to put Daffy Duck on his Thanksgiving menu (Tom Turk and Daffy), followed by Porky as a comically resourceful Wild West scout (Wagon Heels). Then, our porcine protagonist concocts a robot cat to thwart a ravenous rodent (Mouse Menace) and plays the clueless cop waging a riotous war of wits with a vagrant Daffy (Riff Raff Daffy). And th-th-th-that's NOT all, folks! There's further fun afoot with Porky, Elmer Fudd, Bobo the Elephant and more in these brilliantly restored classics from animation's Golden Age!
Contents:
01. Tom Turk and Daffy
02. Wagon Heels
03. Mouse Menace
04. One Meat Brawl
05. Curtain Razor
06. The Pest That Came to Dinner
07. Riff Raffy Daffy
08. Boobs in the Woods
09. Dog Collared
10. Thumb Fun
11. Fool Coverage
12. Corn on the Cop
13. Corn Plastered (feat. Farmer and Crow)
14. Gone Batty (feat. Bobo the Elephant)
15. Ant Pasted (feat. Elmer)
16. Dog Gone People (feat. Elmer)
17. Bunny and Claude (We Rob Carrot Patches) (feat. Bunny and Claude)
18. The Great Carrot Train Robbery (feat. Bunny and Claude)