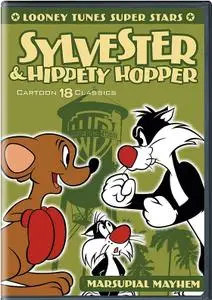 Looney Tunes Super Stars - Sylvester & Hippety Hopper: Marsupial Mayhem (1948-1964)
DVD Video | NTSC 4:3 | 720x480 | 18 x ~ 7mn | 4.76 Gb
English \ Thai (ภาษาไทย): AC3, 1 ch
Subtitles: English, French (Français), Thai (ภาษาไทย)
Genre: Animation, Comedy, Short

This collection features all Hippety Hopper cartoons ever produced as well as all Sylvester Jr. cartoons ever produced.
From the moment they teamed up, the endlessly persistent Sylvester J. Pussycat Sr. and the hyperactive young kangaroo Hippety Hopper would go on to become one of Warner Bros. most reliably hilarious animated duos. Now, together for the first time on DVD, it's the best of the failure-prone feline and spring-loaded little marsupial in 18 classic cartoons remastered to all their Golden Age of Animation glory! Featuring 17 shorts never before seen on DVD, these timeless cat vs "giant mouse" gems include Sylvester's riotous pursuit of Hippety after the 'roo escapes the zoo in Hop, Look and Listen, Sylvester's hapless attempts to impress his son, Sylvester Jr., in Pop 'im Pop! and the acclaimed Hoppy-Go-Lucky, a brilliant send-up of John Steinbeck's classic "Of Mice and Men". And that's just the beginning of the bounding, bouncing, cat-confounding fun in this cartoon cornucopia from the heyday of Warner Bros. animation!
Titles:
01. Hop, Look and Listen
02. Hippety Hopper
03. Pop 'im Pop!
04. Who's Kitten Who?
05. Hoppy Go Lucky
06. Cats A-Weigh!
07. Bell Hoppy
08. Lighthouse Mouse
09. Too Hop to Handle
10. The Slap-Hoppy Mouse
11. Mouse-Taken Identity
12. Hoppy Daze
13. Freudy Cat
14. Cat's Paw
15. Fish and Slips
16. Birds of a Father
17. Claws in the Lease
18. Goldimouse and the Three Cats