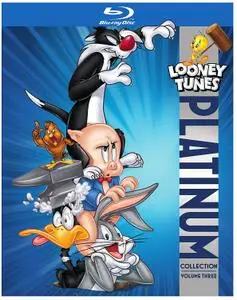 Looney Tunes: Platinum Collection. Volume 3. Part1 (1938-1961)
BDRip 720p | MKV | AVC 1280x720, ~ 3.0 Mbps | 25 x ~ 8mn | ~ 25 x ~ 180 MB
English: AC3, 1 ch, 192 Kbps | Subtitles: None
Genre: Animation, Comedy, Short

The Looney Tunes series of cartoons has been going strong for decades, creating some of the most beloved cartoon stars of all time, including Bugs Bunny and Daffy Duck. Among the more than 1,000 cartoons created under the Looney Tunes banner are some of the most memorable shorts ever, including four listed on the National Film Registry, five Academy Award-winners and 26 Oscar nominees.
Disc 1
1 Hiawatha's Rabbit Hunt
2 A Corny Concerto
3 Falling Hare
4 Little Red Riding Rabbit
5 Hair-Raising Hare
6 Acrobatty Bunny Bugs 1946
7 The Big Snooze Bugs, Elmer
8 A Hare Grows in Manhattan
9 Easter Yeggs Bugs, Elmer
10 Slick Hare Bugs
11 Gorilla My Dreams
12 High Diving Hare
13 Hillbilly Hare Bugs
14 Bunny Hugged Bugs
15 Operation: Rabbit
16 Bully for Bugs Bugs
17 Bugs and Thugs Bugs
18 Knighty Knight Bugs
19 Honey's Money[n 1]
20 The Hep Cat
21 Pigs in a Polka
22 A Ham in a Role
23 Dog Gone South
24 A Bear for Punishment
25 Steal Wool