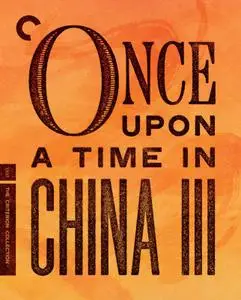 Once Upon a Time in China III / Wong Fei Hung III: Si wong jaang ba (1992) [The Criterion Collection, Spine #1103]
BDRip 720p | MKV | AVC, 1280x548, ~ 2.6 Mbps | 1hr 52mn | 2.43 GB
Chinese (中文): AC3, 1 ch, 256 kbps \ Chinese (中文): AC3, 2 ch, 256 kbps
Subtitles: English
Genre: Action, Adventure, History, Biography


Director:
Hark Tsui
Writer:
Tin-suen Chan, Tan Cheung, Hark Tsui
Stars:
Jet Li, Rosamund Kwan, Siu Chung Mok
Jet Li's third outing as the storied martial-arts hero Wong Fei-hung is an exhilarating celebration of Chinese culture peppered with a dash of international espionage. This time around, Wong travels to Beijing, where he finds himself drawn into the intrigue surrounding an epic lion-dance competition, spars with a Russian rival for the affections of his beloved Thirteenth Aunt (Rosamund Kwan), and fights to foil a foreign plot to assassinate the real-life Chinese diplomat Li Hongzhang. The eye-popping lion-dance set pieces—which combine vibrantly colored, fire-breathing pageantry with martial-arts mayhem—rank among the most visually spectacular achievements of the Once Upon a Time in China series.
Extras:
- None