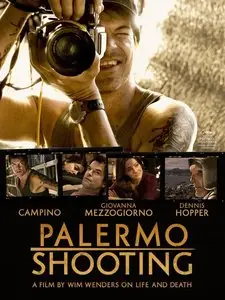 Palermo Shooting (2008)
Language: Spanish, German | Subtitle: Spanish
DVD5 | ISO | 01:43:47 | PAL 16:9 (720x576) VBR | AC3 5.1 - 448 Kbps | 4.36 Gb
Genre: Drama | Germany, France, Italy
IMDB
Directed by:
Wim Wenders
Starring:
Campino, Giovanna Mezzogiorno and Dennis Hopper
English
After the wild life-style of a famous young German photographer almost gets him killed, he goes to Palermo, Sicily to take a break. Can the beautiful city and a beautiful local woman help him calm himself down?
German
Finn (Campino) ist ein ultrahipper Fotograf, der mit Leuten wie Milla Jovovich (spielt sich selbst) verkehrt und diese auch ablichtet. Sein Handy klingelt pausenlos, sein cooles Leben lebt er auf der Uberholspur. Ebenfalls auf der Uberholspur befindet er sich mit seinem schnittigen Sportwagen, als ihm urplotzlich ein Geisterfahrer entgegenkommt - nur zufallig entkommt er dem Crash. Dieses Erlebnis fahrt ihm tief in die Knochen, er spurt, dass nichts mehr so ist wie zuvor. Also lasst Finn sein bisheriges durchgestyltes Leben hinter sich und reist nach Palermo, wo er die Bild-Restauratorin Flavia (Giovanna Mezzogiorno) kennen lernt. Langsam scheint Finn seinen inneren Frieden zu finden - ware da nicht der geheimnisvolle fremde Mann mit grauer Kutte (Dennis Hopper), der Finn seit dem Anfang seiner Reise verfolgt und mit einem Pfeilbogen Schusse auf ihn abfeuert…
Spanish
Finn es un fotografo de fama internacional que lleva una vida trepidante que muchos envidian. Pero, de repente, sufre una crisis existencial y decide abandonarlo todo. Desde Dusseldorf llega a Palermo, donde se cruza en su camino un misterioso asesino. A partir de ese momento, empieza para el una nueva vida.