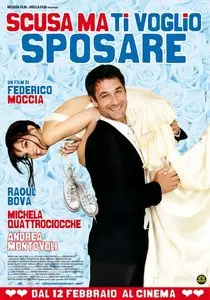 Scusa ma ti voglio sposare / Perdona Pero Quiero Casarme Contigo (2010)
Language: Espanol, Italiano | Subtitle: Espanol, Catalan
DVD5 | ISO | 01:44:16 | PAL 16:9 (720x576) VBR | AC3 5.1 - 448 Kbps | 4.36 Gb
Genre: Comedy, Drama, Romance | Italy
IMDB
Directed by:
Federico Moccia
Starring:
Raoul Bova, Michela Quattrociocche and Francesco Apolloni
English
Three years after Alex, a mature and successful advertising agent, and Niki, now twenty, have sworn eternal love, everything is going splendidly. They live together, they're in love and everything seems just right. That is, until Niki starts moving in new social circles at university and Alex, becoming increasingly paranoid that Niki might leave him for a fellow student her own age, decides it's time to pop the question.
Espanol
Segunda parte del film "Perdona si te llamo amor". La historia continua… Alex (Raoul Bova) y Niki (Michela Quattrociocche) estan mas enamorados que nunca, acaban de volver del faro en la isla de Blu donde han vivido dias inolvidables. Niki se reencuentra con sus amigas, pero el grupo de chicas debera afrontar grandes cambios que pondran a prueba su amistad. Alex retoma su vida de siempre, con sus viejos amigos. Ellos, Flavio (Ignazio Oliva), Enrico (Luca Angeletti) y Pietro (Francesco Apolloni) han pasado de ser maridos serenos y seguros a tener que afrontar muchas dificultades que han puesto en peligro sus matrimonios. Y ahora todas estas personas, hombres y mujeres de diferentes edades, cada uno a su manera, se encuentran para reflexionar sobre el amor.
Italiano
Alex e Niki, innamoratissimi piu che mai, sono appena tornati dal faro dell'Isola Blu dove hanno vissuto giorni indimenticabili. Niki ritrova le sue amiche del cuore, cresciute e piene di nuovi impegni. Alex riprende la sua vita di sempre, ufficio, calciotto e i vecchi amici. Ma proprio loro, Flavio, Enrico e Pietro, da mariti sereni e sicuri, finiscono per affrontare talmente tante difficolta di coppia da distruggere i loro matrimoni. E allora tutte queste persone, uomini e donne di diverse eta, ognuno a modo suo, si ritrovano a riflettere sull'amore. E poi quella domanda, la piu difficile: un amore puo durare piu di tre anni? Alex romantico sognatore, decide rischiare. Fa una bellissima sorpresa a Niki chiedendo la sua mano. Per il matrimonio pero bisogna essere d'accordo sulla scelta della chiesa, sul banchetto, sul numero degli invitati… e magari le due famiglie la pensano in maniera completamente diversa. E soprattutto: Niki sara pronta per un passo cosi importante? Come se non bastasse, ecco arrivare nell'ufficio di Alex una splendida modella che lavorera con lui alla nuova campagna pubblicitaria e si innamorera di lui. Niki invece si ritrova a studiare all'universita con un ragazzo della sua eta, con la stessa passione per il surf e soprattutto una passione ancora piu grande per lei. Per sognare in amore bisogna essere in due e nessuno dei due deve aver paura. Come andra a finire? Lo scopriremo solo vivendo…