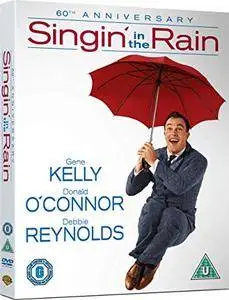 Singin' in the Rain (1952)IMDb Top Rated Movies #93 | User Rating: 8.3

1080p BDRip | mkv | x265 HEVC @ 2817 Kbps, 23.976 FPS | 1480 x 1080 | 1 h 42 min | 3.31 GB

Audio 1: English DTS 5.1 @ 1509 Kbps, 24-bit | Audio 2: English AC-3 1.0 @ 192 Kbps, 16-bit

Genres: Romance, Musical, Comedy, Period | Subtitle: English

#69

| My List | 100 Greatest Films of All Time | Set 1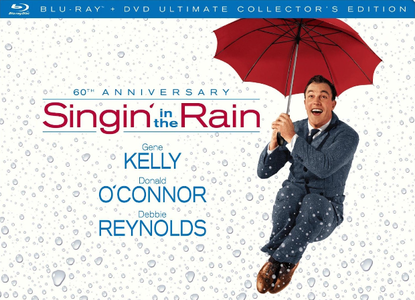 If you're as sheltered from the classics as I once was, your familiarity with Singin' in the Rain probably extends no further than episodes of The Simpsons, Family Guy, Robot Chicken and Glee. Jackie Chan fans should have caught the reference in Shanghai Knights even with the most rudimentary pop culture know-how. Most of the woefully uninitiated, though, will instinctively associate Singin' in the Rain with the first unsettling home invasion scene in Kubrick's A Clockwork Orange, in which Alex DeLarge belts out the titular tune while assaulting and raping a woman in view of her gagged and bound husband. Not exactly what lyricist Arthur Freed and composer Nacio Herb Brown had in mind when composing and arranging the song for The Hollywood Revue of 1929; a song that would, in the years following its 1952 screen revival, become one of the most popular and recognizable music numbers in Hollywood history. Nor was it what Gene Kelly – who directed, choreographed and starred in Rain – and Freed, who produced, thought their lighthearted Technicolor passion project might spawn in the decades to come.

And yet Singin' in the Rain isn't merely the singing, dancing flight of bygone fancy so many assume. (Although that's certainly the primary source of its disarming charm.) Surprisingly pointed and satirical for a musical of the era, not to mention laugh-out-loud funny, the sixty-year-old classic exudes as much wit, confidence and shrewdness as it ever has, taking Tinseltown and its forever fickle audiences to task, staging a whimsical spoof, spinning a love story and delivering on the promise of an infectious, entertaining musical. It only helps that Kelly and screenwriters Adolph Green and Betty Comden set the film in the roaring '20s, making it as much of a period piece in 2012 as it was in 1952. Times have changed, sure; cinematic styles have followed suit, no argument here. But therein lies the secret to Singin's timelessness. Kelly and company touch on everything from the ongoing evolution of moviemaking to the changing of the silent-films guard, the emergence of talkies, the ever-competitive studio system, the trials and tribulations of development hell, temperamental test audiences and failed screenings, crafty filmmaker fixes, public and private romances, the rise and fall of stars and starlets… it's 21st century Hollywood via the '20s as depicted in the '50s. And apparently very little has changed. Modern filmfans will get the same kick out of Singin' in the Rain as their parents and grandparents did so long ago; more so even, as Hollywood's wheelings and dealings are, thanks to our cranky friend the Internet, more transparent and widely broadcast than before.

Kelly's energy and enthusiasm, leading lady Debbie Reynolds' winning smile and presence, and Donald O'Connor's peppy playfulness make the entire musical larger than life too, no matter how quaint the once-lavish $4 million production may seem by today's standards. The vaudevillian comedy, perky line delivery, and slapstick are easily the most dated elements of the film, but it doesn't take long to fall in love with them all the same. O'Connor's whirlwind performance of "Make 'Em Laugh" does just that with a jaw-dropping dance routine that must be watched at least three times to catch everything the deceptively frenzied singer pulls off with a hat and his own limbs. The tongue twisting interplay between Kelly, Reynolds and O'Connor is irresistible and unforgettable, no hyperbole necessary. Or their arm-in-arm, left-right-left-right trot down a flight of stairs in "Good Morning," or the moment the trio concoct their lip-syncing scheme, or any number of lightning-quick exchanges that pass between the three. And lest I forget, there's Kelly and O'Connor tapping circles around a befuddled diction coach in "Moses Supposes." (Before puppeteering the poor man.) Good luck coming out on the other end of that one without an enormous grin on your face. Even when Singin' in the Rain isn't trying to be an enthralling trip back in time, the sheer exuberance of the actors, the fearlessness of the dancing and singing, and the vitality of Freed and Brown's songs are impossible to resist. Irrepressible smiling, laughing and, yes, genuine astonishment follow in rapid succession.

Try as I might, I can't make a more compelling case for Singin' in the Rain. So consider, if only for a moment, that a 1952 musical, if given the chance, could be one of the most gratifying movie-watching experiences of 2012. Consider, if only for a moment, that your hesitance to give a 1952 musical something as simple as a 103-minute chance is only depriving you of an eye-opening, expectation-shattering experience. Consider, if only for a moment, the possibility that your aversion to older movies is only limiting your cinematic horizons. Singin' in the Rain is a true classic; perhaps even, as the AFI continues to declare it, the greatest movie musical of all time. And, frankly, there's no time like the present. So stop scoffing, stop thumbing your nose, stop shrugging your shoulders. Give Singin' in the Rain a fighting chance and see – just see – where it takes you.
Please Note: Playback of this H.265/HEVC encoded video file in VLC media player may cause problem (like Green Screen). A fresh install of the player or a new version can solve this problem. I strongly suggest you to download and install "K-Lite Codec Pack (Full or Mega version; totally free with WMP Classic)" on your system first and then try to play the file in VLC. Or, you can just install PotPlayer, and no codecs will be needed. I use this player for playing all sorts of media… from MP3 audio files to 4K UHD video files.

MS-IND



Mac users please get help from the Internet and YouTube.