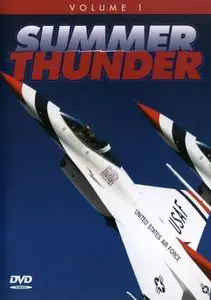 Summer Thunder volume 1
DVD | 2006 | English | 00:30 | MPEG-2 - 8000 Kbps | 720x480 (4:3) | 30 fps | AC3 224 kbps avg | 1,60 GB
Genre: Documentary
The Thunderbirds are proud to represent Air Force Airmen who make America's Air Force the most advanced and respected air, space and cyberspace force the world has ever seen. They continually provide consistent and credible Global Vigilance, Global Reach and Global Power, giving a critical edge to today's joint warfighting and coalition teams. As Air Force ambassadors, the Thunderbird team strives to showcase the integrity, selfless service and excellence embodied by American Airmen everywhere.