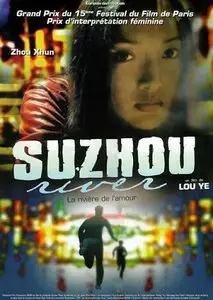 Suzhou River / Suzhou he (2000)
DVDrip | AVI | XVID - 990 Kbps | AC3 - 192 kbps | 608x336 | Language: Mandarin | 82 min | 700 Mb
Subtitles: English+French+Spanish (SRT)
Genre: Drama, Romance
The story follows the transient lives of four people at the margins of Chinese society. An anonymous videographer opens the film with a monologue on the eponymous Suzhou River and love. He starts by telling the story of a romance between himself and Meimei (Zhou Xun), a performer at a dive bar in Shanghai. The videographer then begins relating the story of Mardar, a small-time crook and motorcycle courier, and Moudan, the daughter of a rich businessman, whom Mardar is hired to ferry around town whenever Moudan's father brings home one of his mistresses.
L'histoire lyrique et passionnée d'un amour impossible entre deux êtres qui se dédoublent. Entre eux coule une rivière, Suzhou River, chargée d'histoire et d'états d'âme…
* Director: Ye Lou
* Main Cast: Xun Zhou, Hongshen Jia, Zhongkai Hua, Anlian Yao