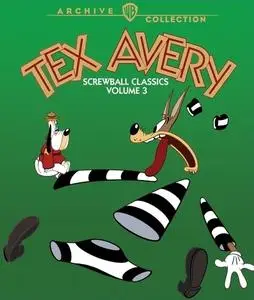 Tex Avery Screwball Classics. Volume 3 (1942-1955)
BDRip 720p | MKV | AVC 1280x720, ~ 3.0 Mbps | 21 x ~ 7mn | ~ 21 x ~ 220 MB
English: AC3, 2 ch, 448 Kbps | Subtitles: None
Genre: Animation, Comedy, Short, Family

There's no doubt that Tex Avery was the most influential animator of the 1940s and 1950s.
After altering the face of cartoon comedy at Warner Bros. with his development of characters such as Porky Pig, Daffy Duck and Bugs Bunny, Avery headed to M-G-M to further his reign of mayhem with the likes of Screwball Squirrel, Red Hot Riding Hood and Droopy.
All of Avery's star characters are featured here: Droopy, as a Mountie, a bullfighter and a Western deputy; Spike, as a hibernating bear's weary watchdog; Red, as both Cinderella and a frontier cowgirl; and Screwball Squirrel, as - what else? - an escapee of a lunatic asylum.
But it's the stories, premises and gags that are front and center in Avery's films - and this collection features his absolute best. Where to begin? With a cat, a mouse, a dog and a canary drinking "Jumbo Gro"; a lovelorn skunk stuck on imitating Frank Sinatra; or a baby billy goat who eats absolutely everything… including the cartoon's background paintings?
Avery's screwball classics, his one-shot wonders, are what really made his reputation. Here, from a fast-pased race with Little Johnny Jet to a crazy Christmas with One Ham's Family, Thanksgiving gorging with a Jerky Turkey and nonstop roaring at a Slap Happy Lion, this collection showcases Avery at the zenith of his zaniest.
–Jerry Beck, animation historian
Film Distributor:
Warner Archive Collection
Content:
- Blitz Wolf (1942)
- The Early Bird Dood It! (1942)
- One Ham's Family (1943)
- Happy-Go-Nutty (1944)
- Jerky Turkey (1945)
- The Shooting of Dan McGoo (1945)
- Swing Shift Cinderella (1945)
- Wild and Woolfy (1945)
- Northwest Hounded Police (1946)
- Slap Happy Lion (1947)
- King-Size Canary (1947)
- What Price Fleadom (1948)
- Little 'Tinker (1948)
- Señor Droopy (1949)
- Cock-a-Doodle Dog (1951)
- Rock-a-Bye Bear (1952)
- Little Johnny Jet (1953)
- Billy Boy (1954)
- Deputy Droopy (1955)
- Cellbound (1955)
PLUS Special Feature:
- Crackpot Quail (1941) (with original audio soundtrack)