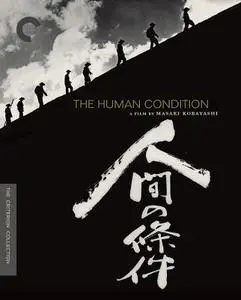 The Human Condition II: Road to Eternity / Ningen no jôken (1959) [Criterion Collection, Spine #480]
BDRip 720p | MKV | AVC, 1280x536, ~ 2.5 Mbps | 2hr 58mn | 3.43 GB | Japanese (日本語): AC3, 1 ch, 256 kbps
Subtitles: English
Genre: Drama, History, War


Director:
Masaki Kobayashi
Writer:
Zenzô Matsuyama (screenplay), Masaki Kobayashi (screenplay)
Stars:
Tatsuya Nakadai, Michiyo Aratama, Kokinji Katsura
This mammoth humanist drama by Masaki Kobayashi is one of the most staggering achievements of Japanese cinema. Originally filmed and released in three installments of two parts each, the nine-and-a-half-hour The Human Condition, adapted from Junpei Gomikawa's six-volume novel, tells of the journey of the well-intentioned yet naive Kaji—played by the Japanese superstar Tatsuya Nakadai—from labor camp supervisor to Imperial Army soldier to Soviet prisoner of war. Constantly trying to rise above a corrupt system, Kaji time and again finds his morals to be an impediment rather than an advantage. A raw indictment of Japan's wartime mentality as well as a personal existential tragedy, Kobayashi's riveting, gorgeously filmed epic is novelistic cinema at its best.
Extras:
- None