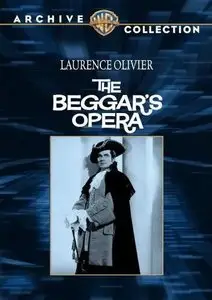 The Beggar's Opera (1953) - Peter Brook
DVDrip | XVID | AC3 - 224 kbps | 560 x 416 | 1:29 mn | 1.21 GB | English, Russian
Director: Peter Brook | Country: UK | Genres: Crime, History, Musical

Cast: Laurence Olivier, Stanley Holloway, George Devine, Daphne Anderson, Mary Clare
Laurence Olivier makes his singing debut in this lively adaptation of John Gay's 18th century theatrical piece The Beggar's Opera. Olivier stars as Captain MacHeath, the leader of all bandits and cutthroats in England. MacHeath is in love with Polly Peachum (Dorothy Tutin), the daughter of beggar king Peachum (George Devine). He has also dallied with Lucy (Daphne Anderson), the offspring of corrupt constable (Stanley Holloway) Lockit. Since it is in the best interest for both Peachum and Lockit to rid the world of MacHeath, the two conspire to imprison and hang the scoundrel, but an unexpected turn of events rescues MacHeath from the executioner's noose..
A strange but fascinating and entertaining curio, The Beggar's Opera is not for all tastes but will prove irresistible to aficionados of musicals, especially those with a knowledge of musical theater history. The John Gay piece from which the film is adapted is a classic of the English stage, never out of the repertory for very long and quite popular with audiences, even if this film version did not repeat the stage play's success.
Director Peter Brook has added an unnecessary framing device – it doesn't really add to the piece, but it also doesn't really damage it – and has cut a bit too much of Gay's original dialogue in order to express things in more cinematic terms, but all in all, he has respected the material. Certainly the spirit of the original has been well retained.
As MacHeath, Laurence Olivier proves himself an uncertain singer, but he's a tremendous amount of fun, mocking the derring-do aspects of his character while still making them believable; he walks the fine line between satire and seriousness that the material demands without making a false step, as does most of the cast. There's sterling work from Stanley Holloway, George Devine, and the delicious Athene Seyler, and Dorothy Tutin is a very pleasing Polly. Brook and his cinematographer, Guy Green, have painted the picture in bold, dazzling colors, and there's a liveliness to the whole proceedings that is contagious.
IMDB
Screenshots
(
Click to enlarge
)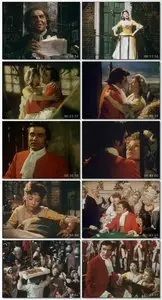 Rapidshare Links:
http://rapidshare.com/files/325897046/The.Beggars.Opera.1953.Peter.Brook.part01.rar
http://rapidshare.com/files/325918198/The.Beggars.Opera.1953.Peter.Brook.part02.rar
http://rapidshare.com/files/325939993/The.Beggars.Opera.1953.Peter.Brook.part03.rar
http://rapidshare.com/files/325967585/The.Beggars.Opera.1953.Peter.Brook.part04.rar
http://rapidshare.com/files/325999484/The.Beggars.Opera.1953.Peter.Brook.part05.rar
http://rapidshare.com/files/326031682/The.Beggars.Opera.1953.Peter.Brook.part06.rar
http://rapidshare.com/files/326066142/The.Beggars.Opera.1953.Peter.Brook.part07.rar
http://rapidshare.com/files/326115369/The.Beggars.Opera.1953.Peter.Brook.part08.rar
http://rapidshare.com/files/326142516/The.Beggars.Opera.1953.Peter.Brook.part09.rar
No Pass