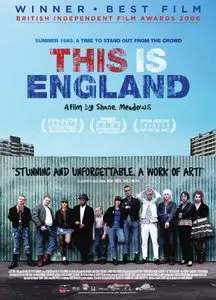 This Is England (2006) - Shane Meadows
DVDrip | English | 1h51 | 664 x 352 | PAL (25fps) | XviD | MP3 @ 128kbps | 735 MB
Subtitles: english (HI), french, spanish, italian, danish, swedish, czech, finnish, greek, hungarian, mecedonian, polish, romanian, brazilian-portuguese, russish,turkish.
Genre: Drama
A look at The North of England during the 1980's Thatcher Years
This is England: Mods, New Romantics, and Skinheads are the major youth sub-cultures of this very English summer of 1983 and young 12-year-old Shaun is left wandering aimlessly alone and lost during the start of his school holidays, until his chance meeting with Woody and his fun and friendly Skinhead pack. Finding a new lease of life; girls, parties, Ben Sherman shirts, Doc Martin boots and shaven hairstyles young Shaun is welcomed, life during this summer holiday has got a whole lot better. That is until Combo arrives on the scene bitter, dangerous, racist, militant and psychotic life for young Shaun has just approached his first major crossroads.
This is England is a look back at the early eighties of British working-class life through the eyes of young Shaun and his new gang, and dealing with the bitterness of outside influences such as racism and xenophobia, of mass unemployment and the fall out of the Falkland's War; Thatcher's Britain: Did we ever have it so good? When you see Shaun, ask Him.
Cast: Thomas Turgoose, Stephen Graham, Jo Hartley, Andrew Shim, Rosamund Hanson, Perry Benson, George Newton, Andrew Shim, Kieran Hardcastle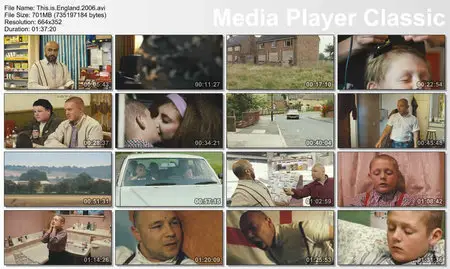 No password needed.
Join "rar" files with "7zip" (freeware), or "WinRAR".
Join "001" numbered files with "HJ-Split" (freeware).
Verify downloaded files with "Quick.SFV" (freeware).
ALL LINKS ARE WORKING FINE! Enjoy the movie.
If there is a problem, I am here to help. Send a private message (pm), and don't just leave a comment (a simple comment won't notify me, but a private message will).
Please follow the rules and don't leave mirrors with my postings.