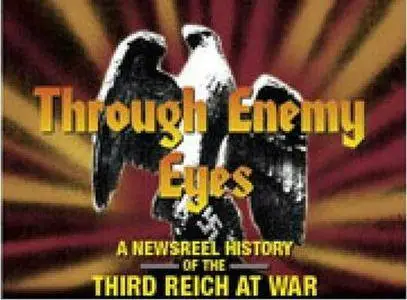 Through Enemy Eyes. A Newsreel History of the Third Reich at War. Volume 4. Disk 2 (1939-1945)
DVDRip | Avi | Xvid, ~ 1900 kbps | 720x480 | 6 x ~ 20 minutes | 6 x ~ 280 Mb
German: Dolby AC3, 2 ch, 256 kbps
Subtitle: English (Hardsub)
Genre: Documentary | History | War | Series

A Newsreel History of the Third Reich at War: Go behind enemy lines on a journey that traces the rise and fall of German military fortunes… the great battles, the desperate hours captured via authentic uncut newsreels, exactly as presented to German wartime cinema audiences.
Now see the Second World War as you've never seen it before: Through Enemy Eyes.
All newsreels have been transferred from original 35 millimeter and 16 millimeter German prints and have been accurately translated and electronically subtitled in English.
Contents of Through Enemy Eyes Volume 4 DISK 2: Mar 5, 1941 - Apr 30, 1941
NEWSREEL 548: Hitler Speaks at the Party Founders Day Celebration in Munich's Hofbräuhaus; Bulgaria Signs the Tripartite Pact in Vienna; Hitler Receives Tripartite Delegation at Belvedere Palace; German Troops are Allowed in Bulgaria to Prevent British Intervention in the Balkans; Infantry Units on Winter Maneuvers; German Air Defense Exercises;
NEWSREEL 550: Sports Events in Berlin and Stuttgart; Vienna Celebrates Third Anniversary of Anschluss; A Celebration Rally in Linz, Austria; Heroes Memorial Day Rituals in Berlin; Victorious U-boat Crew is Decorated; Combat Engineers Manuever in France;
NEWSREEL 552: Initiation Ceremonies of Hitler Youth and German Girls League; Japanese Foreign Minister Matsuoka Welcomed in Berlin.
NEWSREEL 553: Second Anniversary of Bohemia and Moravia Celebrated in Prague; President Tiso Reviews Slovak Army Parade; Ethnic Germans Flee Yugoslavia; First Enlisted Man Decorated with a Knight's Cross; Afrika Korps on the Offensive in North Africa; German Shipyards Launch New Submarines; Germany Attacks Yugoslavia and Greece;
NEWSREEL 554: Afrika Korps Units Capture Agheila and Benghazi; Combat in Croatia and Slovenia; Waffen SS Units Approach Belgrade; Metaxas Line Breached in Greece; Key Port of Salonica Taken by German Troops.
NEWSREEL 556: Afrika Korps Advance to Sollum; The Führer Welcomes Bulgarian King Boris and Hungarian Regent Horthy; Yugoslavia Capitulates; German Troops in Historic Sarajevo; Greek Islands Thasos and Lemnos Captured by a Daring Sea Assault; Greece's Epirus and Macedonia Armies Capitulate;