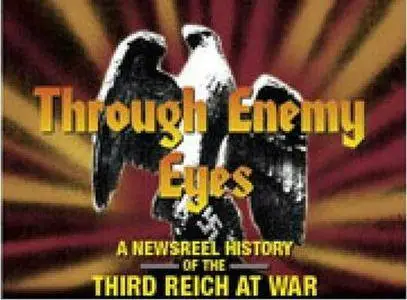 Through Enemy Eyes. A Newsreel History of the Third Reich at War. Volume 5. Disk 2 (1939-1945)
DVDRip | Avi | Xvid, ~ 1900 kbps | 720x480 | 4 x ~ 20 minutes | 4 x ~ 280 Mb
German: Dolby AC3, 2 ch, 256 kbps
Subtitle: English (Hardsub)
Genre: Documentary | History | War | Series

A Newsreel History of the Third Reich at War: Go behind enemy lines on a journey that traces the rise and fall of German military fortunes… the great battles, the desperate hours captured via authentic uncut newsreels, exactly as presented to German wartime cinema audiences.
Now see the Second World War as you've never seen it before: Through Enemy Eyes.
All newsreels have been transferred from original 35 millimeter and 16 millimeter German prints and have been accurately translated and electronically subtitled in English.
DISK 2: July 10, 1941 - Aug 6, 1941
NEWSREEL 566: Bavarian Mountain Infantry Capture Lemberg (Lvov) after Heavy Fighting;70,000 Soviet Troops Surrounded near Minsk; Heavy Battles Rage in Lithuania;
NEWSREEL 567: Finno-German Soldiers Soviet Armies Surrounded in Bialystok-Minsk Region, 325,000 Surrender; Mechanized Forces Attack Toward Leningrad.
NEWSREEL 569: German Destroyers Attack Soviet Patrol Boats near Murmansk;
NEWSREEL 570: Hitler Visits the Eastern Front; Vinnitsa and Mogilev Taken by German and Hungarian Troops; Waffen-SS in Combat Northeast of Lake Peipus.