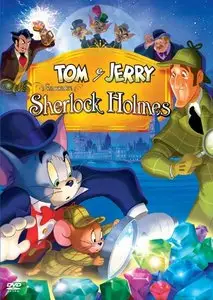 Tom and Jerry Meet Sherlock Holmes (2010)
DVDRip | Lang: English | MP4 | 720x576 | H264 - 1259Kbps | AAC - 160Kbps | 48mins | 762Mb
Genre: Animation, Family, Comedy | Studio: Warner Home Video
Takes place in London, as various jewel heists baffle Scotland Yard, and a beautiful singer named Red gets framed as the culprit. A situation of this magnitude calls for drastic action, and soon the legendary Sherlock Homes hits the beat, with Dr. Watson and Tom and Jerry in tow. But the case grows even more challenging when Tom and Jerry resort to their old crazy tricks and games with one another. Favorite supporting characters from the original Tom and Jerry series also turn up, including Droopy, Butch and Tuffy.
Amazon