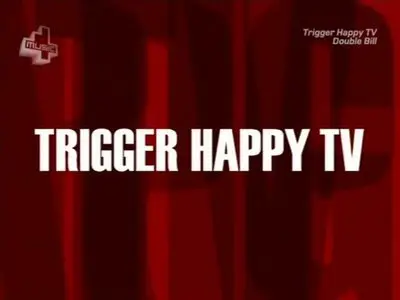 Trigger Happy TV [2000]
DVDRip | ENG | AVI | XVID | 576x432 | 03:30:00 | MP3 192kbps | 1.36GB
DVD Release Date: 2000 | Genre: Comedy, Family, TV Show
Trigger Happy TV is a hidden camera comedy television program. The original British edition of the show, produced by Absolutely Productions, starred Dom Joly and ran for two series on the British television channel Channel 4 from 2000–2002. Joly made a name for himself as the sole star of the show, which he produced and directed with cameraman Sam Cadman.
The programconsisted in Joly deliberately entering into ludicrous or embarrassing situations in public places, all of which was filmed surreptitiously by Cadman. Sketches took place in a variety of locations, though most appeared to be filmed on the streets of Central London and Cheltenham.
The humour in the programme is derived mainly through observation of the public's reactions to Joly's shenanigans. This signalled a departure from the usual hidden camera format, where members of the public are themselves pranked or "stitched-up" by show producers.
Unlike most hidden camera programmes, many of the scenes in Trigger Happy TV did not revolve around trapping normal people into embarrassing and impossible situations. Instead, Joly often made fun of himself rather than others, and many scenes made people stop and either laugh or simply wonder what was going on; the passers-by are never made aware of the fact that they are on television, presumably until they sign a release form allowing the use of the footage shot. Such scenes include Joly answering a gigantic novelty mobile phone and shouting at the top of his voice into it (normally in quiet locations like golf courses, cinemas, libraries and parks), a chef chasing an actor in a large rat costume out of a restaurant, and two actors dressed as masked Mexican wrestlers getting into spontaneous fights in grocery stores. The programme's surreal sketches have been described as being influenced by Dada. Other scenes include people dressed as animals breaking into a fight and the progress of various costumed pedestrians (such as a snail and an old man) across a zebra crossing in London. Joly also often dressed as a Cub Scout, a foreign person with bad English, or a park attendant.
The show didn't include a laugh track, instead playing instrumental and sometimes sad music during sketches. Bands such as Eels and The Crocketts have been used multiple times in Trigger Happy TV.
Three series and a Christmas special of the show were produced in the UK, from 2000 to 2002. Three DVDs were released, containing the "best of" both series and the Christmas specials. Despite the show's popularity over two continents, Joly says he will not make any more in Britain, as his face and voice are now too well known. The comedy is also known for its contrastingly sombre musical soundtrack, which was released commercially.
Screenshots: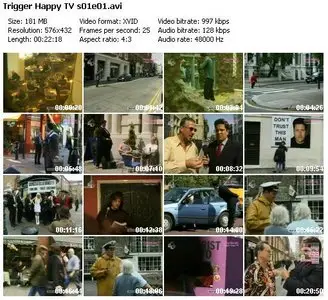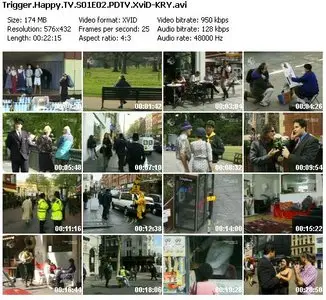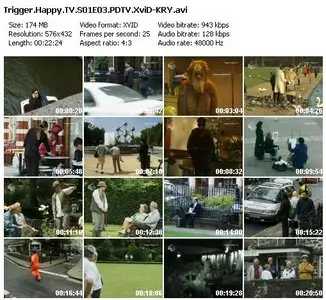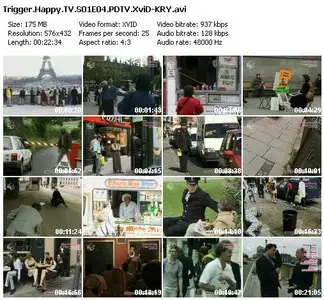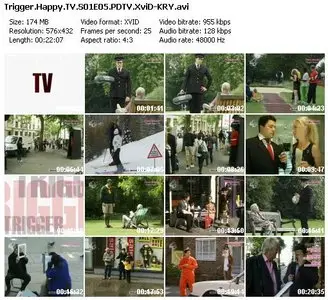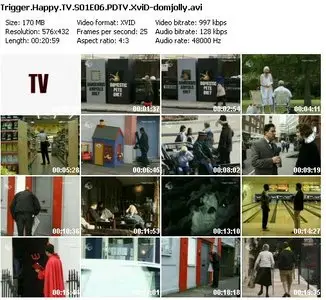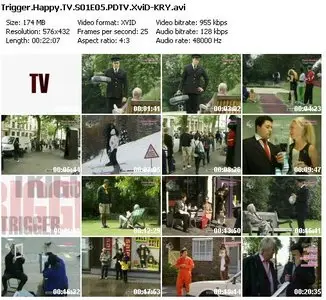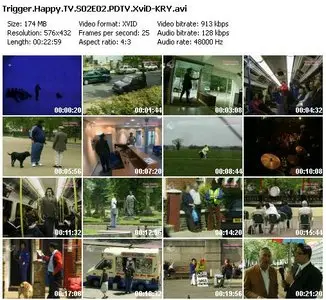 Download:
http://hotfile.com/dl/21907476..._Trigger_Happy_TV.rar.001.html
http://hotfile.com/dl/21907478..._Trigger_Happy_TV.rar.002.html
http://hotfile.com/dl/21907479..._Trigger_Happy_TV.rar.003.html
http://hotfile.com/dl/21907482..._Trigger_Happy_TV.rar.004.html
http://hotfile.com/dl/21907480..._Trigger_Happy_TV.rar.005.html
http://hotfile.com/dl/21907483..._Trigger_Happy_TV.rar.006.html
http://hotfile.com/dl/21907474..._Trigger_Happy_TV.rar.007.html
Mirror:
http://rapidshare.com/files/32...ction_Trigger_Happy_TV.rar.001
http://rapidshare.com/files/32...ction_Trigger_Happy_TV.rar.002
http://rapidshare.com/files/32...ction_Trigger_Happy_TV.rar.003
http://rapidshare.com/files/32...ction_Trigger_Happy_TV.rar.004
http://rapidshare.com/files/32...ction_Trigger_Happy_TV.rar.005
http://rapidshare.com/files/32...ction_Trigger_Happy_TV.rar.006
http://rapidshare.com/files/32...ction_Trigger_Happy_TV.rar.007
You can use FFSJ to join files:
http://hotfile.com/dl/20727125..._Join_And_Split_Files.rar.html
My blog:
http://avaxhome.ws/blogs/IamD