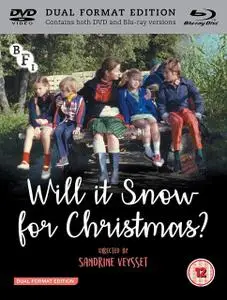 Will It Snow for Christmas? / Y'aura t'il de la neige à Noël? (1996) [British Film Institute]
Blu-Ray | BDMV | AVC, 1920x1080, ~28.0 Mbps | 1hr 31mn | 33,9 GB
French (Français): DTS-HD MA, 6 ch, 3201 kbps; French (Français): LPCM Audio, 2 ch, 2304 kbps
Subtitles: English
Genre: Drama


Director:
Sandrine Veysset
Writers:
Sandrine Veysset (scenario and dialogue), Antoinette de Robien (adaptation) (co-writer)
Stars:
Dominique Reymond, Daniel Duval, Jessica Martinez
Film Distributor:
BFI (British Film Institute)
A woman and her seven children live on a farm in Southern France. In spite of the hard work and the mediocre accommodation, their life would be a happy one, but for one person: the owner of the farm an egotistic and authoritarian individual, who is also the lover of the woman and the father of all her children. The farmer handles them as his property, uses them as cheap labour to work in the fields, and denies them the right to leave the farm. It is only the love of the woman for her children that allows them to endure their situation; but even for her, disenchantment has set in.
Extras:
- Tout en Liberté (2015, 31 mins): Interview with director Sandrine Veysset and Cinematographer Hélène Louvart
- Terre-Mère-Amour (2015, 15 mins): Interview with actress Dominique Reymond

                                                                                                                Total   Video                                             
Title                                                           Codec   Length  Movie Size      Disc Size       Bitrate Bitrate Main Audio Track                          Secondary Audio Track
-----                                                           ------  ------- --------------  --------------  ------- ------- ------------------                        ---------------------
00000.MPLS                                                      AVC     1:31:04 24 157 034 304  36 460 111 866  35,36   28,00   DTS-HD Master 5.1 3201Kbps (48kHz/24-bit) LPCM 2.0 2304Kbps (48kHz/24-bit)



DISC INFO:

Disc Title:     WillItSnowForChristmas.1996.BFI.Br
Disc Size:      36 460 111 866 bytes
Protection:     AACS
BD-Java:        Yes
BDInfo:         0.5.8

PLAYLIST REPORT:

Name:                   00000.MPLS
Length:                 1:31:04.958 (h:m:s.ms)
Size:                   24 157 034 304 bytes
Total Bitrate:          35,36 Mbps

VIDEO:

Codec                   Bitrate             Description     
-----                   -------             -----------     
MPEG-4 AVC Video        28002 kbps          1080p / 24 fps / 16:9 / High Profile 4.1

AUDIO:

Codec                           Language        Bitrate         Description     
-----                           --------        -------         -----------     
DTS-HD Master Audio             French          3201 kbps       5.1 / 48 kHz / 3201 kbps / 24-bit (DTS Core: 5.1 / 48 kHz / 1509 kbps / 24-bit)
LPCM Audio                      French          2304 kbps       2.0 / 48 kHz / 2304 kbps / 24-bit

SUBTITLES:

Codec                           Language        Bitrate         Description     
-----                           --------        -------         -----------     
Presentation Graphics           English         25,186 kbps                     

FILES:

Name            Time In         Length          Size            Total Bitrate   
----            -------         ------          ----            -------------   
00000.M2TS      0:00:00.000     0:10:59.166     3 226 039 872   39 150          
00000.M2TS      0:10:59.166     0:01:23.791     414 020 352     39 509          
00000.M2TS      0:12:22.958     0:00:59.250     258 206 400     34 839          
00000.M2TS      0:13:22.208     0:01:07.833     290 318 208     34 218          
00000.M2TS      0:14:30.041     0:00:40.000     213 431 616     42 642          
00000.M2TS      0:15:10.041     0:01:51.916     547 421 952     39 116          
00000.M2TS      0:17:01.958     0:01:03.000     315 896 064     40 087          
00000.M2TS      0:18:04.958     0:00:46.625     229 735 104     39 383          
00000.M2TS      0:18:51.583     0:15:11.416     4 531 291 968   39 772          
00000.M2TS      0:34:03.000     0:17:04.083     4 584 870 528   35 815          
00000.M2TS      0:51:07.083     0:00:42.458     214 442 304     40 366          
00000.M2TS      0:51:49.541     0:00:49.458     216 428 352     34 978          
00000.M2TS      0:52:38.999     0:01:06.416     265 485 696     31 958          
00000.M2TS      0:53:45.416     0:01:43.000     403 691 712     31 342          
00000.M2TS      0:55:28.416     0:01:05.708     275 874 048     33 566          
00000.M2TS      0:56:34.125     0:16:59.166     4 565 877 504   35 839          
00000.M2TS      1:13:33.291     0:17:31.666     3 604 002 624   27 416          

CHAPTERS:

Number          Time In         Length          Avg Video Rate  Max 1-Sec Rate  Max 1-Sec Time  Max 5-Sec Rate  Max 5-Sec Time  Max 10Sec Rate  Max 10Sec Time  Avg Frame Size  Max Frame Size  Max Frame Time  
------          -------         ------          --------------  --------------  --------------  --------------  --------------  --------------  --------------  --------------  --------------  --------------  
1               0:00:00.000     0:07:42.250     30 517 kbps     52 074 kbps     00:07:06.875    40 683 kbps     00:07:06.875    37 833 kbps     00:07:06.875    158 931 bytes   837 498 bytes   00:04:26.125    
2               0:07:42.250     0:08:46.791     33 876 kbps     47 366 kbps     00:10:45.333    40 667 kbps     00:13:49.250    37 829 kbps     00:10:45.166    176 423 bytes   811 618 bytes   00:11:41.375    
3               0:16:29.041     0:08:28.916     33 352 kbps     47 496 kbps     00:17:48.708    40 565 kbps     00:23:46.125    37 826 kbps     00:17:48.708    173 711 bytes   772 557 bytes   00:17:00.000    
4               0:24:57.958     0:08:25.125     27 892 kbps     47 143 kbps     00:28:33.541    39 267 kbps     00:28:33.583    37 825 kbps     00:28:32.708    145 272 bytes   859 007 bytes   00:28:39.583    
5               0:33:23.083     0:09:08.541     30 392 kbps     46 858 kbps     00:40:32.958    40 235 kbps     00:37:05.500    37 839 kbps     00:35:24.458    158 294 bytes   817 706 bytes   00:37:09.708    
6               0:42:31.625     0:08:09.125     25 132 kbps     43 945 kbps     00:42:33.583    36 919 kbps     00:42:32.666    36 275 kbps     00:42:32.750    130 896 bytes   685 889 bytes   00:45:15.791    
7               0:50:40.750     0:06:23.916     29 130 kbps     50 395 kbps     00:53:34.250    39 831 kbps     00:53:34.125    37 673 kbps     00:50:42.333    151 736 bytes   881 645 bytes   00:53:48.291    
8               0:57:04.666     0:09:09.791     32 163 kbps     52 994 kbps     00:59:17.958    40 367 kbps     00:59:17.958    37 797 kbps     00:59:17.958    167 516 bytes   797 462 bytes   01:01:33.750    
9               1:06:14.458     0:06:59.833     23 944 kbps     36 034 kbps     01:12:42.416    32 258 kbps     01:12:38.791    29 666 kbps     01:12:33.791    124 707 bytes   554 997 bytes   01:08:03.458    
10              1:13:14.291     0:06:57.583     26 535 kbps     45 011 kbps     01:16:20.791    39 391 kbps     01:15:36.583    37 803 kbps     01:15:36.541    138 204 bytes   908 470 bytes   01:14:45.708    
11              1:20:11.875     0:09:12.125     18 528 kbps     52 802 kbps     01:21:14.041    39 462 kbps     01:21:07.625    36 722 kbps     01:21:06.041    96 500 bytes    764 378 bytes   01:21:11.250    
12              1:29:24.000     0:01:40.958     4 902 185 kbps  52 994 kbps     00:57:32.500    40 667 kbps     00:12:03.791    37 839 kbps     00:33:39.000    136 940 bytes   908 470 bytes   01:13:00.250    

STREAM DIAGNOSTICS:

File            PID             Type            Codec           Language                Seconds                 Bitrate                 Bytes           Packets         
----            ---             ----            -----           --------                --------------          --------------          -------------   -----           
00000.M2TS      4113 (0x1011)   0x1B            AVC                                     5464,875                27 999                  19 126 688 102  104 026 035     
00000.M2TS      4352 (0x1100)   0x86            DTS-HD MA       fra 			  		  		  		 	 	  	 			   		   	  		 			  		  		  	 			   		  	   		  		  		 	    	 			   		   	  		 		   			  				 (French)            5464,875                3 201                   2 186 408 448   12 736 743      
00000.M2TS      4353 (0x1101)   0x80            LPCM            fra (French)            5464,875                2 310                   1 578 280 448   8 743 936       
00000.M2TS      4608 (0x1200)   0x90            PGS             eng (English)           5464,875                25                      17 207 375      99 186          


All thanks to the original uploader
More in My Blog

If you like this release please visit my blog
In it you will find ALL the latest BFI releases