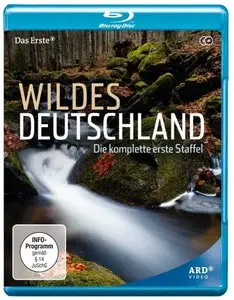 Wildes Deutschland [Season 1: 1-6 series] / Дикая природа Германии (2011)
BDRip | MKV | AVC 1280x712, ~6.0 Mbps | 6 x ~ 0hr 43mn | 6 x ~ 2.70 GB
German \ Russian: AC3, 6 Ch, 384 kbps
Subtitles: None
Genre: Documentary | Series
Unique landscapes and wild animals in a variety of natural landscapes in Germany, shooting motion with frame deceleration, smooth transitions camera from unusual perspectives - all this creates for the viewer an indescribable atmosphere of personal presence, shows the unique and amazing variety of biosphere reserves and national parks in Germany.
Stars:
Hans-Peter Bögel, Wolf Frass, Martin Umbach
Eposodes:
1. Der Spreewald / The Spreewald / Леса реки Шпрее
2. Nordfriesland / North Frisia / Северная Фризия
3. Der Schwarzwald / The Black Forest / Шварцвальд
4. Nordpommerns Küste / North coast of Pomerania / Северное побережье Померании
5. Die Berchtesgadener Alpen / The Berchtesgaden Alps / Берхтесгаденские Альпы
6. Die Sächsische Schweiz / The Saxon Switzerland / Саксонская Швейцария
Название:
Дикая природа Германии
Оригинальное название:
Wildes Deutschland
Год выпуска:
2011
Жанр:
Документальный
Выпущено:
Германия
Режиссер:
Кристоф Хаушилд, Торальф Гроспитс, Йенс Вейстфален, Клаус Вайсман, Ян Хафт
О фильме:
Уникальные ландшафты и дикие животные в различных природных ландшафтах Германии, съемка движения с покадровым замедлением, плавными переходами камеры, с необычных перспектив - всё это создает для зрителя непередаваемую атмосферу личного присутствия, показывает уникальность и поразительное разнообразие биосферных заповедников и национальных парков Германии.
Русское озвучивание:
Авторское (Ю.Сербин, по заказу HDClub)