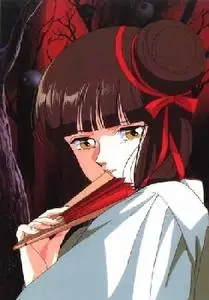 Anime Vampire Princess Miyu 4 OVAS [re-post]
Kyuuketsuki MIYU
MPEG-1 352x240 1400kbps, 44100Hz 128kbps | 11 RAR files | Audio Japanese | English Subtitles
If you love anime then you're going to love Vampire Princess Miyu. Vampire Princess is a dark and thrilling masterpiece
Vampire Princess Miyu
(吸血姫美夕, Kyūketsuki Miyu?) is a horror anime series by Narumi Kakinouchi and Toshiki Hirano, as well as a manga series based on this anime. Its central characters are a vampire girl named Miyu and her demonic companion Larva. Vampires in Vampire Princess Miyu are hunters of "Shinma" or god-demons, and Miyu, being the last of the vampires, has the exclusive job of hunting down the Shinma.
The anime was originally presented in a 4-episode OVA (Original Video Animation) licenced by AnimEigo in 1988, and was later adapted into a 26 episode television series licensed by TOKYOPOP and released in 1997.
The furigana for the title indicate the pronunciation as Vampire Miyu or Miyu the Vampire. The kanji are a play on the Japanese word for vampire, 吸血鬼 kyūketsuki, replacing the character 鬼, meaning "demon", with the character 姫, meaning "princess". Both characters can be read as "ki".
Vampire Princess Miyu
is a tale about a girl, who just happens to be a vampire (family thing and all), who hunts the Shinma that delight in human misery and death. The anime has a dark feel. The main character is not Miyu but a spirituralist named Himiko who is intriguied about Miyu and begins looking for her more. Miyu is forced to hunt the Shinma that was released from their sleep during Miyu's and her mother's efforts to keep her from taking her mother's place. To do so, she is given immortality in her child-like form. The anime is very nicely done and I recommend watching them.
Password if needed:
www.AvaxHome.ru
more galleries at
here
or visit my
blog
c u ;-)