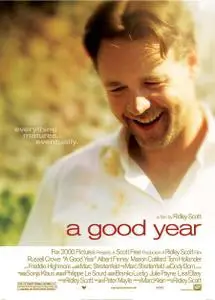 1.36 Gb | 672x288 | XviD | 23,976 fps | AC3, 5.1 Ch | 118 min | English | TR-SubRelease date : 10 November 2006
Genre : Comedy / Drama / Romance
Freddie Highmore - Albert Finney - Russell Crowe - Rafe Spall
Directed by : Ridley Scott
Runtime : 118 min
Language : English
I had the chance to see this film during an early press screening in Ramat Gan, Israel, several weeks ago, and was pleasantly surprised. A good friend of mine that came along was thrilled with the views and landscapes and caught up with the dramatic plot, despite having a distinct preference for action flicks. Speaking of which, here's a chance to give a little tip for the guys: although this is generally referred to as a "chick flick", the screen is filled with the presence of 2 beautiful women throughout the film. Watch out for the young Abbie Cornish (who appears in a brief nude sequence, so don't blink) and for the arousing french actress Marion Cotillard as Crowe's love interest throughout the film.
As it's title may imply, "A Good Year" is just that: a good film by Ridley Scott. It's tone reminded me of Scott's Matchstick Men and it's premise is similar to Under the Tuscan Sun. Nonetheless, despite the similarities, Scott managed to create something new and different in this movie, muchly thanks to it's rich plot, vivid characters and breathtaking landscape, that build up an enchanting European atmosphere that allows you to wander off to France for some enjoyable 118 minutes.